First author, third year med student
Date: Tuesday, April 16, 2019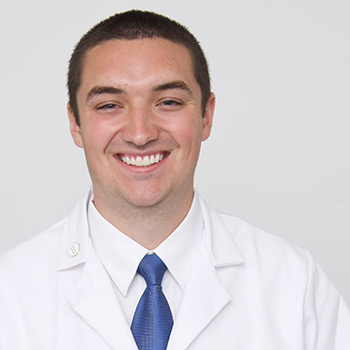 As co-first author on a recent paper in Annals of Neurology, Joseph Hindman was among the first to realize that textbooks he would be reading as a medical student are wrong about the brain pathway for consciousness.
The new research disproves long-held theories about the involvement of the thalamus in the pathway and suggests a new route running from the brainstem through the hypothalamus and basal forebrain into the cortex. Hindman conducted the research under the direction of University of Iowa faculty mentor Aaron Boes during a Summer Research Fellowship in the UI Carver College of Medicine.
"When I was looking at medical schools, I wanted to go to an institution known for its research opportunities for medical students in addition to providing outstanding educational experiences in the hospital," says Hindman, who is from Sioux City, Iowa.
The Annals of Neurology paper is his first as a first author. Hindman has published before in Experimental and Molecular Pathology, as a second author on research he did at the University of Nebraska Medical Center while pursuing his undergraduate degree in biology at Buena Vista University.
"I was interested in radiology when I applied to medical school, and I wanted to pursue research that involved radiologic imaging and the brain. I felt like the Boes Lab would be a good fit for my project.   
"I was there in the beginning when we were writing the outline and hypothesis for the research. I didn't realize how important the findings were until we were writing up the final results, as I was comparing them to previous research," Hindman says.
"We often hear about research behind the principles that we learned during the first two years of our medical school education. However, we often hear that some ideas have yet to be elucidated. For medical students, these are great opportunities for us to contribute to medical knowledge."