Gellhaus named president of the American Congress of Obstetricians and Gynecologists
Date: Friday, June 3, 2016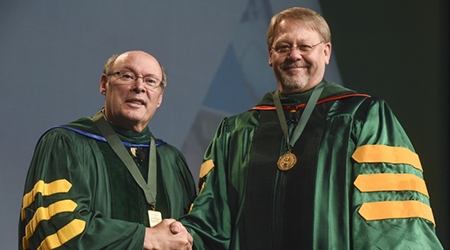 Thomas Gellhaus, MD, on right, with 66th ACOG President Mark DeFrancesco, MD
Professor Thomas Gellhaus, MD, was recently named the 67th president of the American Congress of Obstetricians and Gynecologistsafter dedicating more than 20 years of service and holding 35 different leadership roles at the district, state, national and international level.
"As ACOG president, it is my responsibility to represent the premier organization that promotes women's health care here in the United States and around the world," Gellhaus said. "I am passionate about this organization because it is dedicated to improving and safeguarding health care for women."

The American Congress of Obstetricians and Gynecologists has 58,000 members and is recognized as the nation's leading group of OBGYN professionals committed to the advancement of women's health care through continuing medical education, practice, and research. 

Gellhaus's initial interest in the organization started in 1994. He was practicing in Davenport, Iowa, when his senior partner asked him to attend ACOG's Congressional Leadership Conference in his place. 

"That first ACOG experience really put the hook in my mouth and drew me in," he says. "I eventually got involved in leadership, and at every point along the road, somebody encouraged me to put my name in for the next position."

Gellhaus is focused on implementing three key initiatives during his term as president:
promoting government advocacy
offering global health opportunities
improving resident education models
Activism is an area in which Gellhaus demonstrates passion and experience. In 1999, he spent a month in Washington, D.C., completing a McCain Fellowship, learning what it meant to be an advocate. In 2001, he went back to complete a Primary Care Fellowship at the United States Department of Health and Human Services, where he learned how to write and develop policy.

"For physicians, advocacy is not an option – it's our responsibility," Gellhaus says. "You have to advocate for your patients and their health care, but you have to advocate for your specialty, too."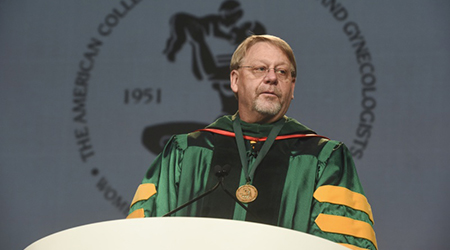 ACOG has a mantra that Gellhaus includes in all of his presentations, including his inaugural speech: if you're not at the table, then you're on the menu.

He says, "If we are not at that table, fighting for what is right for women and for our specialty, we will be on the menu and there are many, many organizations and special interest groups that are very happy to decide what's best for us."

After completing his fellowships, Gellhaus recognized that ACOG was not offering programs geared toward motivating younger members of the organization to become more involved. So, in 2009, he founded the Gellhaus Residency Advocacy Fellowship, a month-long program developed specifically for senior OBGYN residents that provides exposure to health care policy at the federal level.

"Can you imagine the unified voice we could have and the difference we could make if ACOG members responded to a call for advocacy?" Gellhaus says. "We have to mobilize our members to get involved."

His second initiative is to focus on global health opportunities for OBGYN physicians. Gellhaus says that 40 percent of college students interviewing for medical school have been involved in some kind of global health care, and more than half of medical students expect to participate in global health programs as a resident.

"I want to create opportunities for residents and for faculty," Gellhaus says. "I really think young people today are committed to giving to others, and if we don't provide these opportunities for residents and faculty, then we may lose [talented] candidates." 

His third objective is to review and possibly improve resident education training models in an effort to fill more jobs. In 2020, it's forecasted that 6,000 to 8,000 OBGYN providers will retire. Also, in the next 10 years, the OBGYN workforce is expected to decrease by 20 percent. 

"We need to work to increase graduate medical education funding so we can increase the number of OBGYN residency slots and hopefully fix the workforce problem."

The total number of residency openings is based on graduate medical education funding. He says the number of OBGYN residency positions in the United States has not changed since 1980. 

"I've already been told that my goals are too ambitious, but I'm not going to sit back," he says. "I'm going to devote all my energy to making a difference."

Gellhaus shared these presidential initiatives during his inauguration ceremony in May where he delivered an inspiring speech that revealed his passion for ACOG, hunger for change – and, his pride for the Hawkeyes. 

Upon his first introduction as ACOG's 67th president, the lights in the convention center dimmed and the large screen lit up with footage of the Hawkeye football team. Gellhaus, led by six of his esteemed mentors, marched toward center stage surrounded by applause, and the beat of AC/DC's Back in Black.
Story Source: Lindsay Douglas, UI Women's Health, 31150 Pomerantz Family Pavilion, Iowa City, Iowa 52242
Media Contact: Jennifer Brown, UI Health Care Marketing and Communications, jennifer-l-brown@uiowa.edu