Honoring sister's memory with medical dreams
Date: Wednesday, July 29, 2020
Nolan Ford grew up in Rockwell City, Iowa, and is currently living in Cedar Falls, Iowa. But a big part of the University of Northern Iowa (UNI) student's heart is in Iowa City, particularly at University of Iowa Hospitals & Clinics.
"A lot of people don't understand why I love coming back here," Ford says. "They think it would make me sad. And there were sad times, but there were also joyful times. And if not for all the hard work, dedication, and compassion of the doctors, nurses, and staff, I would never have been able to know my sister or make warm, loving memories of her."
Ford's sister, MacKenzie, died at age 9 after a nearly lifelong fight against cancer. Ford, who was 8 when she died, spent much of his childhood with his family at UI Stead Family Children's Hospital while MacKenzie received treatment.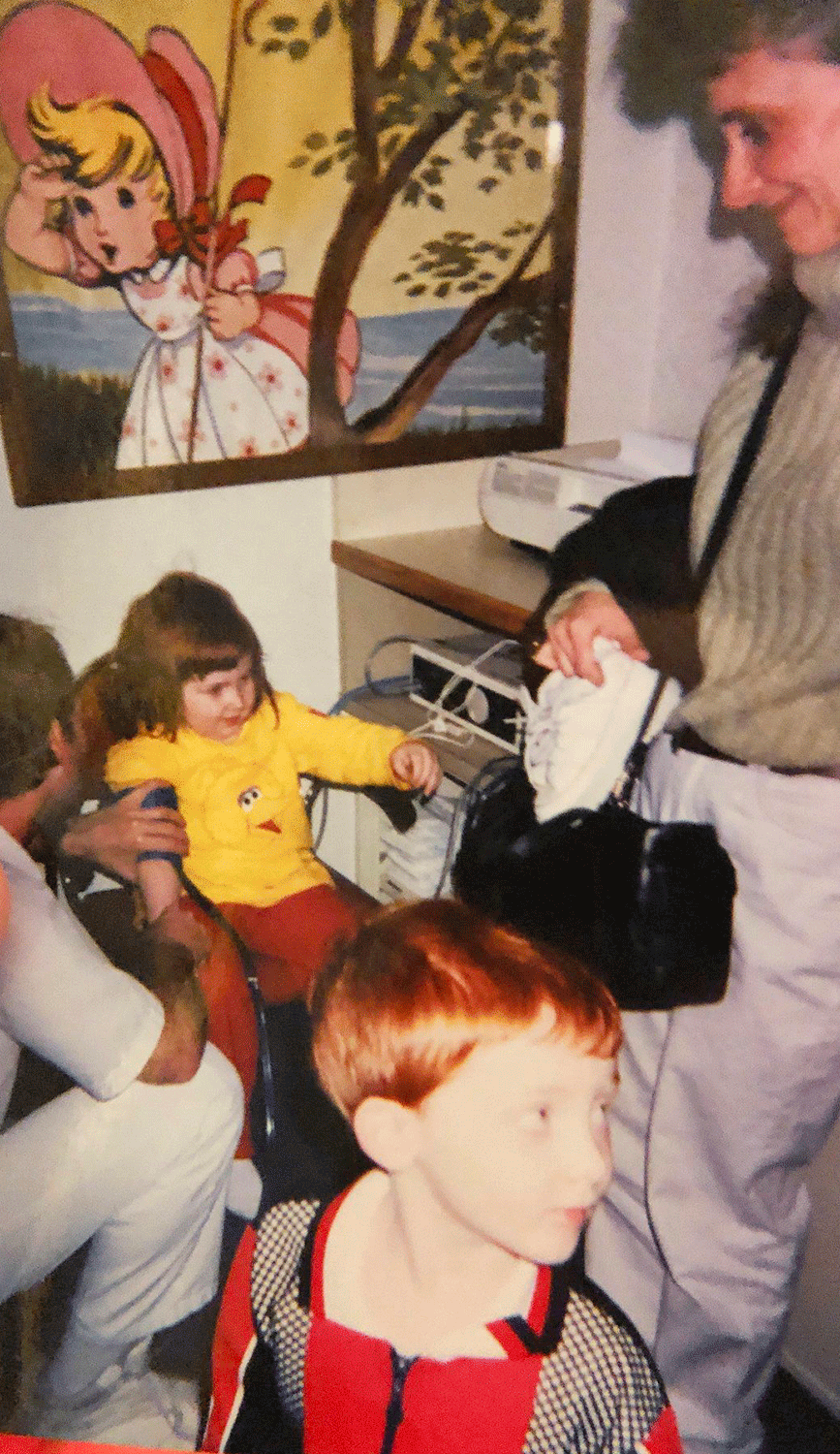 His family's experience at the children's hospital has motivated Ford to pursue medicine as a profession—particularly in underserved rural parts of the state.
It also has led him back to UI Hospitals & Clinics to volunteer and pursue research. In fact, he'll be working next year with one of the doctors who treated MacKenzie, Sue O'Dorisio, medical oncologist and pediatric hematology/oncology fellowship director.
MacKenzie was diagnosed with malignant peripheral nerve sheath cancer when she was 18 months old. Specialized, pediatric cancer care was not available near their northwest Iowa home. But the family had a high level of trust in the health care providers at Stead Family Children's Hospital—particularly her primary doctor, Raymond Tannous—so they regularly made the three-and-a-half-hour trip to and from Iowa City.
After initially going into remission, the cancer returned. Ford says fighting such a rare, aggressive cancer proves how brave and resilient his sister was.
"The odds were heavily stacked against her," Ford says. "This was a cancer my sister was never supposed to fight for so long. Everyone at the hospital made it possible."
Along with the high-quality medical care that MacKenzie received, Ford says the hospital staff went above and beyond to make MacKenzie and the family feel motivated and upbeat during a difficult time.
"Many days we had getting treatment for my sister were gloomy, but seeing how Dr. Tannous could make my sister laugh and smile as she fought through chemotherapy treatments really showed me how rewarding it would be to pursue a career in medicine as a physician one day to provide a higher quality of life to children like my sister," Ford says.
Ford's parents gave up their jobs to be with MacKenzie during treatment, but help from the Ronald McDonald House, UI Dance Marathon, the hospital, and the community made staying together as a family possible.
"This place became a home for us when MacKenzie was in the hospital," Ford says. "It was a vulnerable time for our family, but amazing people made it as positive of an experience as possible."
It would be nearly 12 years after his sister's death before Ford returned to Iowa City. In 2018, while working toward a double major in biology and biochemistry on a premed track at UNI, his adviser alerted him to the Summer Health Professions Education Program (SHPEP) at the University of Iowa. The six-week summer program aims to strengthen the academic proficiency and career development of students underrepresented in the health professions.
"Coming back was a tremendous emotional experience for me," Ford says. "It was like coming home."
Ford says one of the most valuable experiences he had through SHPEP was volunteering with the University of Iowa Mobile Clinic in West Liberty.
"Providing a service to an individual who struggles financially and lacks affordable health care was a warm feeling that gave me purpose in life, to help others improve their health," Ford says. "Coming from a rural area that lacks specialized health care, my goal is to serve a community like that."
Ford credits SHPEP with giving him confidence in his choice of future profession.
"SHPEP challenged me in a variety of ways and solidified my decision to become a doctor," Nolan continues. "The whole staff, but especially Dr. Denise Martinez (associate dean for diversity, equity, and inclusion and clinical associate professor of family medicine in the UI Carver College of Medicine), was so welcoming and taught me so much. It was one of the best times of my life, and it's going to help make my dream come true."
In an effort to gain more research experience, Ford traveled between Cedar Falls and Iowa City every day in summer 2019 to volunteer in a UI Hospitals & Clinics lab studying breast cancer and prostate cancer. He also began volunteering in the pediatric intensive care unit in Stead Family Children's Hospital, where his sister was once a patient.
"I love playing with the kids there," Ford says. "Every time I go back to the hospital, I can recall experiences I had with my sister. It's an extra shot of motivation and allows me to lift huge, huge weights."
It was during this time that Ford reconnected with O'Dorisio, who had cared for MacKenzie while she participated in a clinical trial.
"MacKenzie and her parents were eager to participate in this clinical trial," O'Dorisio says. "They knew that there was a very small chance that the new drug would cure her cancer, and they also understood that whatever the outcome for MacKenzie's tumor, they would be helping other children and families benefit from better treatments in the future. At 9 years of age, MacKenzie demonstrated bravery and courage beyond her years; she had an understanding of life that few of us possess, whatever our age."
O'Dorisio encouraged Ford to apply for a Pediatric Oncology Student Training (POST) grant through Alex's Lemonade Stand Foundation, which he received.
Ford will work with O'Dorisio to test how human stem cells from umbilical cords are able to resist and recover from different forms of radiation therapy. The research will help target cancers such as neuroblastomas, medulloblastomas, and myeloid leukemia.
"It's a really personal and motivating experience for me to be able to reconnect to Dr. O'Dorisio and go back to study cancer at the very place my sister was treated years ago—and a place I still call home," Ford says.
However, due to COVID-19, the research project has been pushed from summer 2020 to summer 2021. Instead, Ford will spend the summer preparing for his final undergraduate year, studying for the MCAT in September, working as a home health aide, and working at UI Hospitals & Clinics transporting patients to and from ICU units. He hopes to start medical school—ideally at the UI Carver College of Medicine—in fall 2022.
"Over the last couple years, I spent a lot of time shadowing physicians at UI Hospitals & Clinics, and I fell in love with the idea of becoming a doctor even more," Nolan says. "I've been able to shadow in neurosurgery, family medicine, neurology, pediatric cardiology, and, most impactful, pediatric oncology. It's been amazing to see how much this hospital has changed over time and how much medicine changes as we learn new things every day. I love how medicine changes day to day, and it's a huge reason why I want to be a doctor. I love the learning experience and keeping myself educated."
As he faces the MCAT and his final classes to graduate, Ford says he knows he's up to the challenge.
"One thing that helps me push through obstacles is remembering my time spent in the pediatric oncology unit and pediatric ICU," Ford says. "Not only did I see my sister fight but other kids struggling just like her. That continues to motivate me to go into medicine and help provide a high quality of life for kids like her."