Med student mobilizes Iowans to care for those affected by drug use
Date: Wednesday, September 12, 2018
The UI Carver College of Medicine is a sponsor of the 2018 Harm Reduction Summit, which takes place on campus Sept. 24-28. Details and registration information for the free conference can be found on the Iowa Harm Reduction Coalition website.
A few minutes with Sarah Ziegenhorn shows her laser-like focus on meeting health needs beyond traditional settings.
Before med school, Ziegenhorn worked in Washington, D.C., with a program focused on harm reduction—a set of practical tools to lessen the negative social and physical consequences associated with drug use. She had several family members who were isolated from traditional health care services, and she knew how difficult accessing care could be due to stigmatization or marginalization.
When the Iowa City native returned home to attend the University of Iowa Carver College of Medicine, she saw communities across the state battling the opioid crisis amid a gap in health care services. In 2016, she founded the Iowa Harm Reduction Coalition (IHRC). 
Here's what a recent interview reveals about Ziegenhorn seeing a need and working to address it.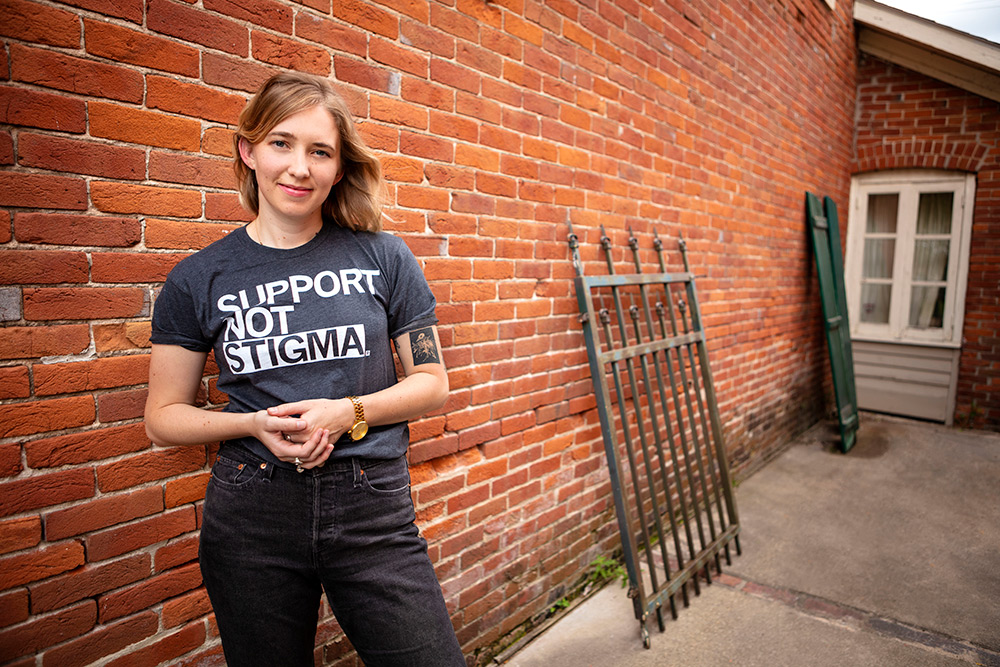 Q: What is the Iowa Harm Reduction Coalition? 
A: At its heart, IHRC is a nonprofit organization mobilizing Iowans to care for fellow community members affected by drug use. Our staff is a team of four and we have more than 150 volunteers, including physicians and medical students, bartenders and artists, people who use drugs and people who are in recovery. As a harm reduction organization, we train community members to provide basic health and social services in solidarity with people who use drugs. Our work is focused in Iowa City, Cedar Rapids, and Des Moines. 
Q: What kind of work do you do?
A: Services are primarily related to preventing overdose fatalities and infectious disease among people who use drugs. For example, we teach safer injection practices to promote good vein health for IV drug users, and we provide sterile injection equipment to prevent the transmission of HIV, hepatitis C, and other bacterial infections.
We train organizations across the state, including law enforcement and homeless shelters, to prevent overdoses and administer naloxone when they occur. From June 2017 to July 2018 we distributed almost 5,000 naloxone rescue kits and received more than 270 reports of our program participants using these kits to reverse an opiate overdose and save a life. 
We also lead advocacy efforts in the Iowa Legislature to improve access to addiction treatment, prevent HIV, and prevent overdose deaths. 
Q: Are you trying to change state laws?
A: Right now, we're focused on the state law that makes needle exchange programs illegal. With the opioid crisis—and the injectable drug crisis in general as Iowans use methamphetamines at much higher rates than opioids—access to sterilized needles is a growing problem. For instance, in 2016 Iowa had the largest number of people diagnosed with hepatitis C in the state since 1998, when reporting began. 
We also want to change the way Iowa Medicaid provides access to hepatitis C treatment and care. There's a significant prior authorization process. We want to change Iowa Medicaid guidelines so they pay for hepatitis C medications the same way that coverage is provided for treatments of other chronic and life-threatening health conditions.
We're also trying to improve access to Suboxone—a medication used to treat opioid addiction—by decreasing the lengthy prior authorization process through insurance programs. 
Q: How has being a medical student influenced your efforts? 
A: Having the support of the Carver College of Medicine for this work has been transformative. The college's sponsorship of our annual Iowa Harm Reduction Summit allows us to host critical conversations among people directly impacted by the overdose crisis, law enforcement, Iowa legislators and government workers, and health care experts from around the country. These conversations allow all stakeholders in our community to make progress and create new policies and programs that keep Iowans alive and well. 
Q: What's next? 
A: We want to continue to find ways to empower people who use drugs to be active participants and change agents in their communities. That can begin with being a client in our program and extend to becoming an advocate for state and local policy changes.
Within the next year, we hope to start providing access to Suboxone and PrEP (HIV prevention medication) from our Cedar Rapids office, in order to meet people where they're at, both literally and figuratively.
Q: What motivates you?
A: Watching people grow and gain confidence and hope as they engage with our program, either as a participant or volunteer.
For example, last winter we met a younger man who used IV heroin and meth. He was really hostile and angry toward anyone in health care or public health. Then he met some IHRC volunteers who are in recovery from opiate dependency, and he was able to build trust with these individuals. He started receiving naloxone from us and using it on his friends. He would tell us, "I reversed over 20 people. I saved those people's lives. My life is worth something, and maybe things could get better for me." Finally, he got into treatment for substance use dependency and has been doing really well.
That type of transformation is the most powerful part of our program, and that makes me feel energized and want to keep moving forward.