Medicine student starts new column in The Daily Iowan
Date: Tuesday, August 6, 2019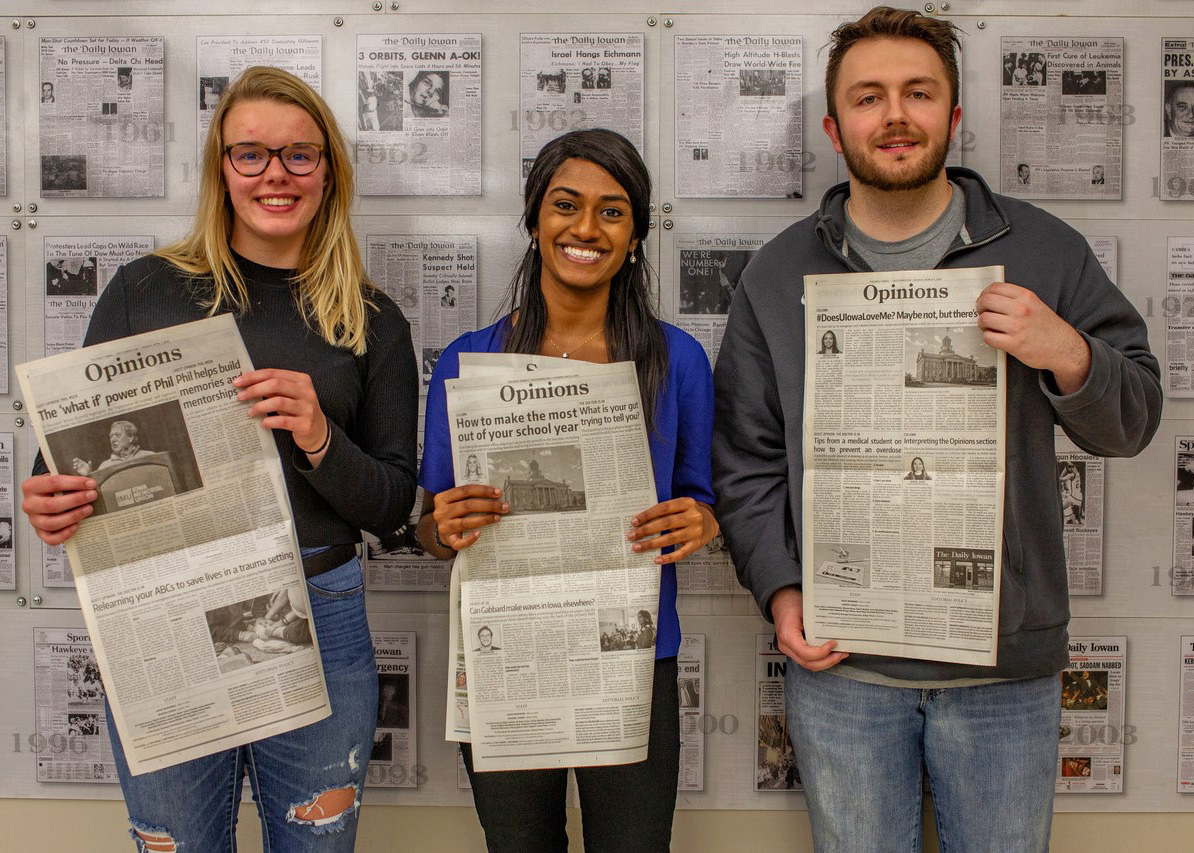 In hopes to meld the University of Iowa's medical and undergraduate campuses, Pavane Gorrepati, current MD candidate at the UI Carver College of Medicine, initiated a new monthly column in The Daily Iowan titled, "The Doctor Is In," which explores health-related concepts geared toward undergraduate students.
"I thought the column would be a great way to keep all students interacting with the medicine campus," Gorrepati says. "I wanted to make the most out of this opportunity, and The Daily Iowan reaches a big audience. This partnership with them has been incredible, and I was so fortunate to have Brittney Bettendorf, MD, clinical assistant professor in immunology, as my mentor to help me make this project a reality."
After receiving approval from The Daily Iowan editors, Gage Miskimen and Katelyn Weisbrod, Gorrepati kicked off the column by writing the first article, "The Doctor Is In: To sleep or not to sleep; the slings and arrows of too little," unveiling the effects of sleep deprivation in young adults and teens.
Gorrepati was inspired by her own passions outside of her major. The column is aimed as beneficial to both medical students and the public as students get to delve into their own interests and build writing skills, while also creating pieces for undergraduates that are targeted towards their health and well-being—a win/win situation, she explains.
In order to recruit writers, Gorrepati created a mass email, reached out to professors, posted on Facebook pages, and advertised in her classes. Soon after, students signed up and began pitching their ideas.
Gorrepati notes that Sarah Ziegenhorn's article regarding overdose prevention was a "great demonstration of passion and voice" that communicates vital information everyone should know in regard to preventing an opioid overdose.
Other topics include:
Stress and how it effects the body
Sexually transmitted diseases
Nutrition
The common cold
CPR and tourniquets
All medicine students—M1 to M4—are eligible to sign up to write an article. Even if writing isn't their specialty, they can practice explaining complex concepts to someone with little knowledge on the topic, which in return, helps them prepare to talk with their future patients. 
"Not only will the column serve to bridge the undergraduate and medical school communities, but it will also incorporate more humanities into the medical school curriculum," explains Gorrepati. "It will give students at the UI Carver College of Medicine the opportunity to communicate medical knowledge at a level that is appropriate for the general public."
Chosen students have one month to write their column before Gorrepati and the team at The Daily Iowan edit it two weeks prior to being published in the opinions section. By her graduation date in May 2021, Gorrepati's goal is to have at least 24 articles published.
As the school year approaches, she plans to continue writing pieces for the column.
"I like sharing my research and teaching someone something new," she says. "I also love being able to provide students the outlet to express their ideas and interests. It's so exciting to read the finished pieces."
"The Doctor Is In," runs the first Sunday of every month in The Daily Iowan.