Meet Amalia Leveille
Date: Tuesday, November 10, 2020
Hometown: Iowa City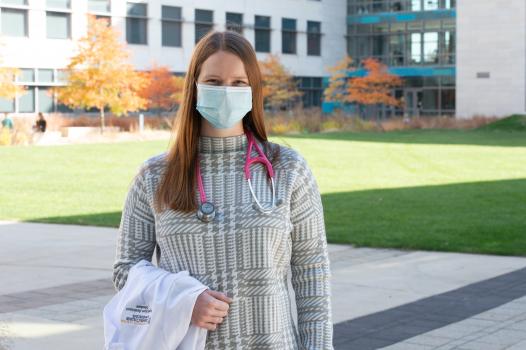 Program: Physician Assistant
Students in the Carver College of Medicine Department of Physician Assistant Studies and Services are approaching commencement after a year that has required plenty of flexibility and adjustment. Student body president Amalia Leveille reflects on training during a pandemic and the major strengths of the nationally ranked program.
What are your plans after graduating?
I'm getting married in March, so I'm going to do that first and then approach the job search later. With how the current job market is, I'm trying to keep my mind open to being flexible. Overall, I like emergency medicine, internal medicine, acute care, or primary care. I prefer variety just because we don't know what jobs are going to be open during this pandemic.
You've had the unique experience of training during the COVID-19 pandemic. What has this year taught you?
It's definitely taught me to be flexible. Whether that's continuously learning about new diseases and keeping up with that medical knowledge or figuring out how to restructure my day. All of our rotations were scratched once the pandemic hit, so we had to be flexible on a week-to-week basis.
We had about two months off where we were studying at home. It was a tough two months due to all of the changes and just having to be away from patients and seemingly further away from where we wanted to be approaching graduation. But our PA program faculty got us back really quickly, and we were actually able to learn a lot during that time away so that when we came back and were seeing patients, we could use more of that knowledge.  
Given that the PA program is ranked at the top nationally, what are the strengths of the program?
First of all, our didactic portion is completely integrated with the medical school, which is super unique and excellent for learning. We get to attend lectures given by experts in their fields, which a lot of smaller programs don't have the availability to offer.
Our program is also so established that we have way more clinical opportunities. We have connections in a ton of different states. Even through the pandemic, I've had the opportunity to go to Houston for one of my rotations. I was just in St. Paul for my last one.
What motivated you to take on a leadership position within your class?
I love working with my peers, and I'm very excited about our profession. The fact that we get to work alongside medical students and educate them on what we do and what we're capable of was very motivating for me.
What was the most rewarding part of your Carver College of Medicine experience?
Getting to the clinical rotations phase and being active on the health care team again has been the most rewarding part. Learning on the spot and knowing how to be an effective person on that team definitely comes with time, and now that' I'm at the end of my clinical time I'm way more helpful and can make a difference in patients' lives.
I recently took care of this woman with anxiety. She was very nervous, and I was able to hear her story and talk through what the experience has been like for her. Hearing her say, "I'm glad you're here," is super rewarding. It's nice to know you're a positive influence on a patient and that they feel comfortable enough to share their story.
What advice would you give to incoming physician assistant students?
It's a tough path, but it's definitely worth it. I haven't met a PA who's regretted their decision to become a PA. Study hard, and it's all worth it.
Commencement 2020
The UI Carver College of Medicine will host a commencement ceremony for the Physician Assistant Program Class of 2020 at 2 p.m. Friday, Dec. 4. In accordance with the university and its commitment to mitigating the risk to public health regarding the COVID-19 situation, the ceremony has been moved to a virtual ceremony. Family and friends will be invited to view the ceremony virtually.
Share your photos and memories using #UIowaGrad20