Meet Rodney Berry
Date: Thursday, July 21, 2022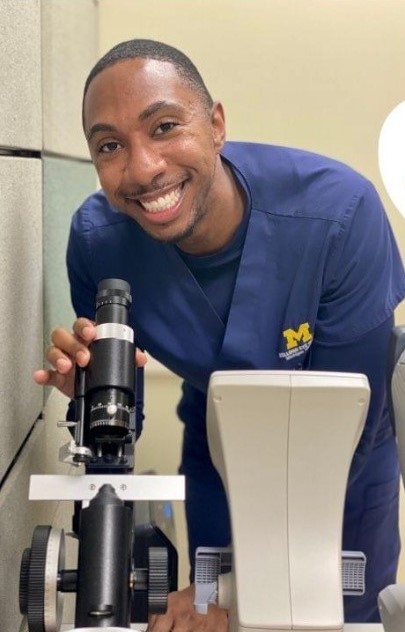 After seven years working in a health care setting, Rodney Berry is not new to the world of medicine, but now he's ready to take his impact on patients' lives to the next level. Berry will join the University of Iowa Carver College of Medicine in the physician assistant (PA) program this fall.
"My mission in life is to serve others. That's where the most meaning and purpose is," Berry says.
Berry graduated from Wayne State University in 2014 with a bachelor's degree in psychology. Since then, he has worked in ophthalmology clinics for The University of Michigan's Kellogg Eye Center, which is where he fostered his passion for helping others.
Berry felt content with his work in the ophthalmology clinic. There was room for growth, and he was satisfied with the meaningful contribution he was making for patients struggling with eye diseases. His patients and coworkers were instrumental in his decision to pursue higher education.
"My patients and the relationships I developed with them were the catalyst for me applying to PA school," Berry says.
Standing in the gaps
Berry is a first-generation college student and says he is excited to show his siblings and his community what is possible.
"I was honored and humbled to even get the interview with Iowa," Berry says. "I want to show people that these opportunities are open for everyone who has the desire or passion to do more."
Berry is committed to working to reduce obstacles that make it difficult for marginalized communities to seek and receive health care. He hopes to continue these efforts when he becomes a PA.
"I want to stand in the gaps," Berry says. "I want to address these disparities and determine how they can be remedied."
As fall approaches, Berry is most looking forward to "nerding out" and learning more about the workings of the human body to become the most competent PA possible.