Meet Tyler Abarca
Date: Friday, May 8, 2020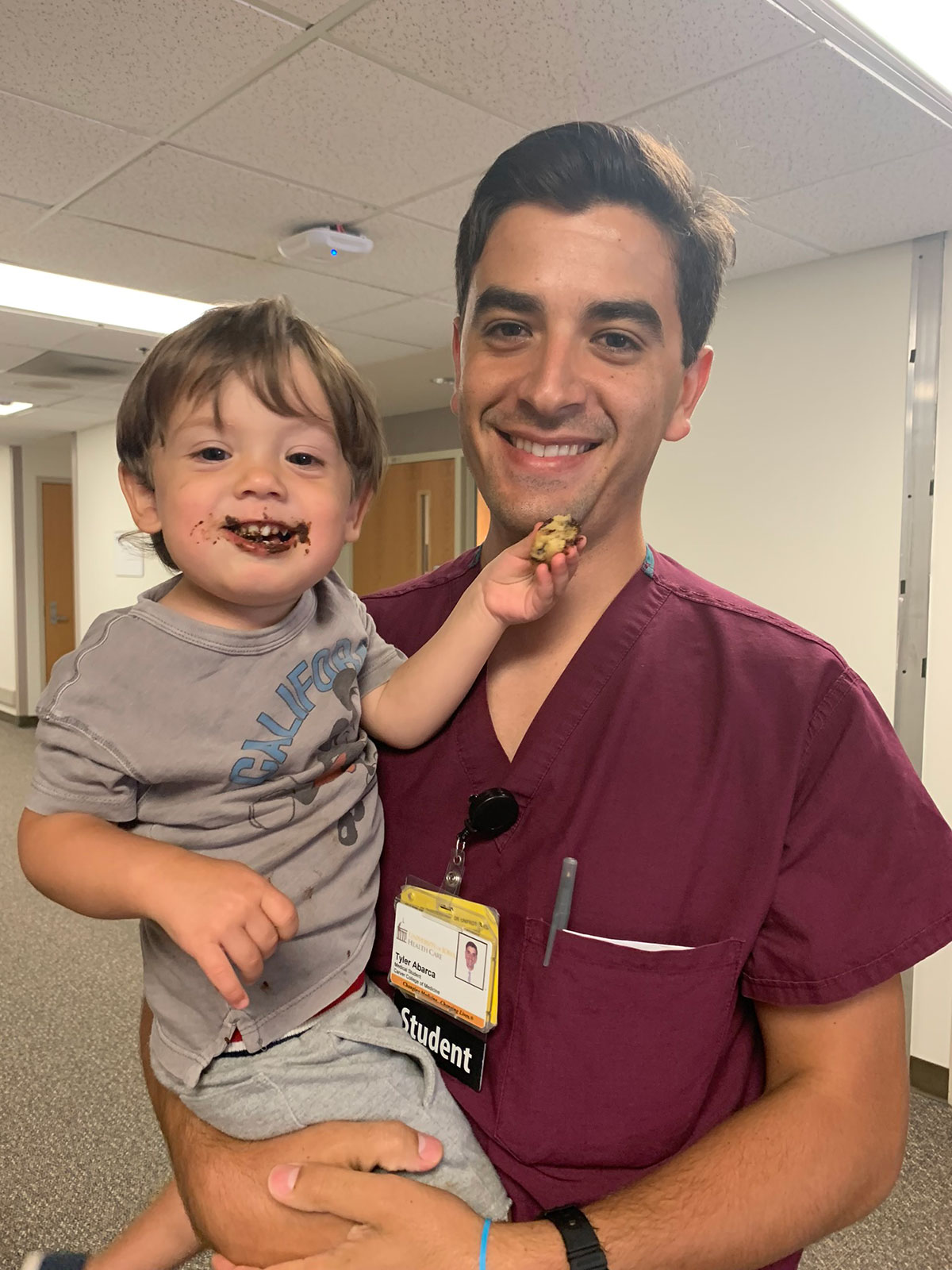 Hometown: Tooele, Utah
Residency Match: University of Alabama at Birmingham
Specialty: Anesthesiology
How did you choose your specialty?
When my wife was in labor with our first child there were complications that necessitated an urgent C-section. Being on the patient's side of the surgical drapes was a new experience for me, but our anesthesiologist did a wonderful job calming our nerves and keeping my wife safe during surgery. My interest in the field grew from there, and I was eventually able to rotate onto the service. I learned that anesthesia is a field where medicine and surgery collide, as they are able to manage pathology in real time and facilitate surgeries that both improve and save patients' lives.  
What experiences outside curriculum greatly enhanced your medical education?
The sense of community throughout the Carver College of Medicine was incredible to experience. As an out-of-state student, I could not have felt more welcomed than I did during my time here in Iowa City. Everyone has your best interests at heart and wants to see you succeed both academically and personally.
Who was especially helpful in guiding and mentoring you? 
During my first summer in medical school, I was able to work on a research project with Dr. Benjamin Miller in the Department of Orthopedics and Rehabilitation. He was an outstanding mentor who always treated me as a colleague, despite my level of training. Thanks to his knowledge and expertise, I had a first-author publication accepted in the Journal of Surgical Oncology during my second year. When my interests pivoted to anesthesiology, Dr. Andrew Feider was my faculty advisor who coached me through the entire application process and helped me match at my top-ranked program. 
What was the most rewarding part of your Carver College of Medicine experience?
Without a doubt, the most rewarding part of the last four years are the friends I've made. I've had incredible classmates, but there are also many other professionals you'll meet throughout the entire university. Iowa City is a community that revolves around the university and higher education. It is almost impossible to not find individuals who share common interests. 
Share one memory that sticks out from your time as a student at the UI Carver College of Medicine.
I will always remember the first patient I was assigned to when my clinical rotations began. It was new and exciting to feel a sense of responsibility for a patient's health. At first, I worried that patients might be frustrated having to deal with trainees, but I found the vast majority to be incredibly gracious and embrace their role in our education. 
What advice or words of encouragement would you give to incoming medical students?
I came into medical school with expectations that this was going to be a miserable four years. After the first few weeks of school, I kept telling myself that the misery must be right around the corner. Now, I am a week away from graduating, and I can honestly say that it never came. Hindsight has shown me how hard our faculty and staff work to make our curriculum as fair and student-oriented as possible. Misery, fatigue, and competition are no longer essential components of medical education. I enjoyed my time at the UI Carver College of Medicine as much as any point in my life, and I am confident that you will, too.