New Dragonfly Liquid Handling System Available in Crystallography Core Facility
Date: Monday, August 24, 2015
The Crystallography Core has acquired the TTP Labtech's Dragonfly, a new, fast liquid handling system with disposable positive-displacement pipette tips that can handle any liquid-type independent of viscosity with no cross-contamination. The liquid handler is ideal for designing and dispensing gradients from a few stock solutions into 24/48/96/384-well plates. It can be used for dispensing custom crystallization screens, preparing fluorescence assay plates or any other gradient plates.
The liquid handler is quite easy to use: the design, preparation and dispense of a 5-solution mix in a 96-well plate with 60 µl per well for a completely untrained person takes less than 15 minutes from scratch.
The Dragonfly has a small desktop footprint and is controlled by a laptop computer. The low dead-volume reservoirs from which the solutions are aspirated are inexpensive ($0.75), disposable, but can be reused if desired.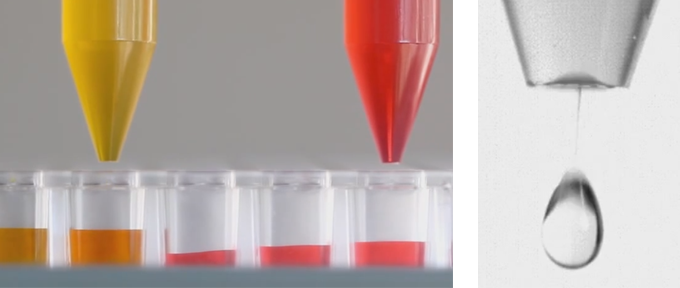 The pipette can aspirate 4 ml of solution and dispense in bursts of 0.5 - 6 µl. So, the minimum dispense volume is 0.5 µl and dispensing 60 µl in a well will take 10 quick bursts. The tips are inexpensive ($1.25), disposable, but can be reused if desired.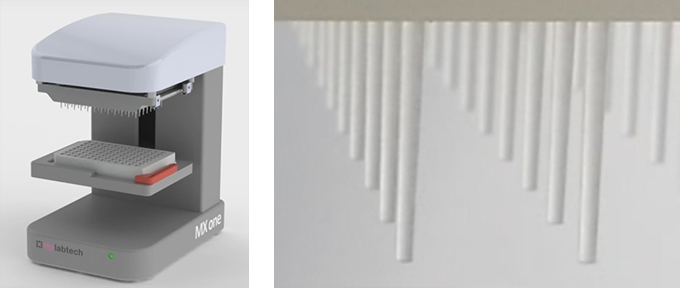 An accessory to the Dragonfly is the MX One mixer which can mix viscous solutions such as glycerol and PEGs (polyethylene glycols) to homogeneity in 96-well plates within seconds. The mixer uses a block of pins that act similar to an array of coffee stirrers oscillating at high-speed to mix the dispensed solutions. The 96-pin array ($10) is easy to clean and reuse.

Within seconds, a mix of 80% glycerol with water or ethanol can be stirred to homogeneity, which is almost impossible to achieve on a shaker even after many hours.
For details on using the Dragonfly or the Mixer, please contact Lokesh Gakhar in the Crystallography Core Facility.