New grant supports training for opioid addiction treatment
Date: Monday, November 5, 2018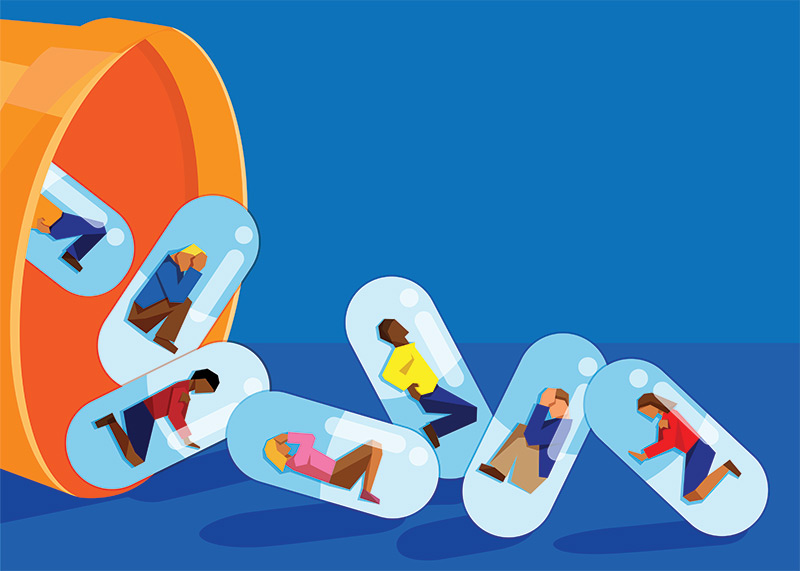 Alison Lynch, MD, director of addictions medicine in the Department of Psychiatry, recently received a three-year, $1.5 million grant from the Substance Abuse and Mental Health Services Administration (SAMHSA) to help a growing number of people addicted to opioids across eastern Iowa gain access to life-saving treatment. 
Lynch, along with a team of certified providers, will use the funding to train more clinicians across the state in medication-assisted treatment (MAT), the gold standard in treating opioid use disorders. 
Success of MAT in Lynch's own practice
In 2017, Lynch and Jill Liesveld, MD, clinical associate professor of psychiatry, started an opioid clinic at UI Hospitals & Clinics to treat people with opioid addictions with MAT using buprenorphine, an approved replacement therapy drug more commonly known by the brand name suboxone. Suboxone targets the same brain receptors related to pleasure and memory that opioids and heroin also latch on to, blocking cravings and preventing withdrawal symptoms. 
Many of Lynch's patients have either survived an overdose or know someone else who has overdosed. These individuals worry about overdosing or even dying if the drugs they use are contaminated with fentanyl or other dangerous substances. They also face concerns about financial problems, being tested for drugs at work, or getting arrested. 
"It's like a full-time job that's really demanding. I see people who are at a very low point in their life," Lynch says.
"We get them on suboxone, and they just feel better," she adds. "They have guaranteed access to a medication that's coming out of a pharmacy, so they can trust it's safe. They don't have withdrawal. It's so satisfying to see someone get their life back. I think it's really empowering, yet there are still not very many trained providers."
Special MAT training required
To become certified to prescribe MAT, a physician must undergo eight hours of training and then apply to the Drug Enforcement Administration (DEA) for certification. Nurse practitioners and physician assistants who have had 24 hours of training, including the eight hours of MAT training, are also eligible to be DEA certified. 
Lynch will use the funding to provide training to physicians, nurse practitioners, and physician assistants in a number of different specialties, including primary care and emergency medicine. Increasing the number of certified providers across the state will increase access for patients who need these life-saving medications.
The first training will be held Dec. 1, and includes a live lecture portion and online self-directed training. Providers must then pass a test and apply for a special waiver through the DEA. 
More qualified providers needed
Lynch will run the training with Anthony Miller, MD, UI clinical professor of psychiatry, who treats veterans with substance addiction and other mental health conditions. Miller is one of only two providers in eastern Iowa certified in MAT within the Department of Veteran's Affairs.   
"We've got to get more people trained to prescribe this medication," he says. 
The project will not only expand MAT treatment at UI Hospitals & Clinics, but also increase its availability in rural clinics across the state, prisons, jails, and a number of different Iowa communities. The team also plans to develop a patient registry to track the effectiveness of the treatment and hire case managers to provide support to patients and providers as they start setting up treatment in their clinic.