From New York to Iowa for a Brighter Future
Date: Friday, September 20, 2019
Summer Health Professions Education Program at the University of Iowa Carver College of Medicine assists underrepresented students in designing future careers in health care.
Heart and passion are driving forces behind the careers of many health professionals, and that is especially true for Armin Muzafirovic. 
As a child, Armin was diagnosed with muscular dystrophy, which led to gradual heart failure and the daunting prospect of a heart transplant while he was still a teenager.
"Basically, they told me I would eventually have to have a heart transplant, or I would die," Armin says. 
Pursuing current and future treatments led the Muzafirovic family to University of Iowa Hospitals & Clinics. Native to New York state, the family made the move to Waterloo, Iowa, to make this life-saving surgery a reality. 
In July 2019, Armin celebrated 16 months post-transplant by returning to the place that saved his life to begin a summer enrichment program that would set him up to save the lives of others: the University of Iowa for the Summer Health Professions Education Program (SHPEP) at the UI Carver College of Medicine.
SHPEP program
SHPEP provides access to information and resources for college students who are underrepresented in health care in order to prepare them for success in medical school and other health professions educational programs. The UI is one of 13 universities nationwide to host the SHPEP program.
Each of these programs in the United States accepts 80 students for six weeks of free academic and career experiences. Medicine, dentistry, public health, and pharmacy are the disciplines currently offered at Iowa.
Since the program began at the UI in 2017 with the help of a grant from the Robert Wood Johnson Foundation, 240 students have participated. The 2019 SHPEP class is made up of students from 21 states who, combined, speak more than 17 languages. 
Armin credits his personal experiences with health care for making him stand out among the other applicants. He says it allowed him to demonstrate how the roadblocks in his life didn't stop him but instead opened the door to amazing opportunities, and that he was ready to take on this new kind of challenge. 
"Nothing should stop you from following your dreams. You just have to see where life takes you."
Armin's experience
At age 17, Armin had his first surgery at UI Hospitals & Clinics. He underwent a second surgery at age 19, and three more in the same year, including his first open-heart surgery in 2017.
"It was definitely a physical and emotional journey, and I am so thankful for my UI Heart and Vascular Center team at UI Hospitals & Clinics," Armin says. "They always ensured that nothing was just 99% okay; they wanted nothing less than 100% success."
Today, Armin is a student at the University of Northern Iowa, where he studies biomedicine, which combines his two passions: biology and applying that knowledge to health care. It was there that he first heard about SHPEP and the opportunities it provided, such as exposure to different health care fields, hands-on activities, shadowing medical professionals, and career mentoring with the Carver College of Medicine faculty and staff.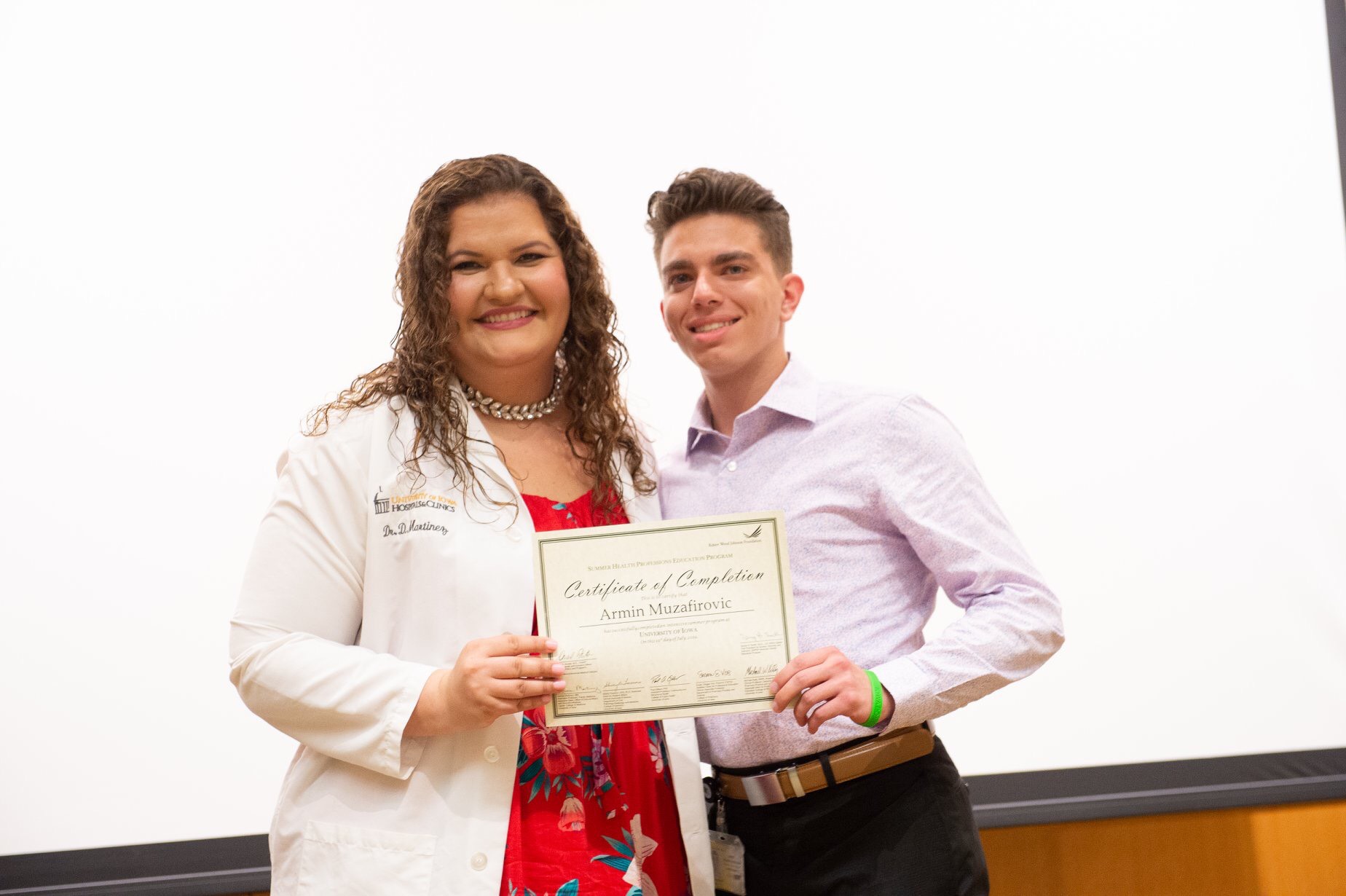 "Through this program, students can learn so much. They gain networking experiences and have opportunities to strengthen their academic profile," says Denise Martinez, MD, clinical associate professor of family medicine and associate dean of cultural affairs and diversity initiatives at the Carver College of Medicine. "This can open some big doors and provide opportunities to so many people who wouldn't necessarily have those opportunities, inspiring them to become health professionals."
Martinez participated in the SHPEP program as an undergraduate student at Seattle Pacific University. She now directs the UI program with the hope of giving current students the same confidence she gained in her experience.
SHPEP at Iowa
Armin's newfound colleagues are more than just connections. All 80 SHPEP scholars are like "one big family," Armin says.
From card games in the dorm rooms, to studying for classes, to a trip to Chicago, there was no shortage of fun in the short six weeks they spent together on the UI health sciences campus. 
"There is a place for everyone here," Armin says. "Nothing should stop you from following your dreams. You just have to see where life takes you."
Throughout his time on the UI campus, Armin says that he has truly honed the skills that will help him become a successful health care professional.
"These are skills that I will use throughout my personal and professional life, and I am thankful to have had them here with this group of people," Armin says. 
He is most proud of his experience with foundational leadership skills, as well as learning how to accept and work with others through the collaboration that took place throughout the program. 
"It was amazing to see people of all different backgrounds and cultures come together here," Armin says. "I learned so much about their lives and got to connect with them about our similar experiences while in Iowa City."
Armin's life after SHPEP
Indeed, the lessons learned here will carry over into each of these scholars' lives as they take the next step to becoming medical professionals. 
Armin's future goals are to continue to shadow and gain firsthand experience in areas of health care that have touched his life, such as cardiology, dermatology, and plastic surgery. 
Moving forward, Armin believes he now has the skills and experience to become a compassionate, well-prepared, and well-rounded candidate for medical school. 
Armin recommends SHPEP to any young, aspiring medical professional to get out of their comfort zone and to gain rare advantages from this "mini medical school." 
"You get to learn about yourself in more ways than one, and there are lessons that I will never forget. Give 200% of your passion to SHPEP, and you will see an amazing difference from the first day to the last," he says.