Q&A with Anthony Piscopo: Clinical research sparked neurosurgery passion and new research skills
Date: Tuesday, September 7, 2021
Anthony Piscopo is in his second year of medical school and will be presenting his first-in-human study results of recording the activity inside arteries of awake patients. His research will be presented at the Carver College of Medicine 2021 Medical Student Research Conference September 15-16.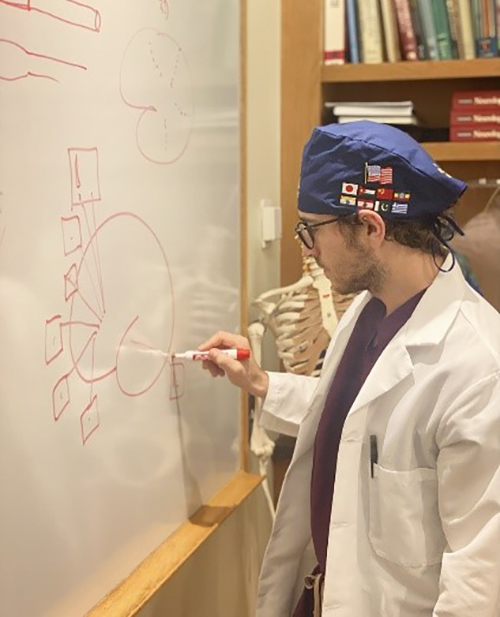 What sparked your interest in pursuing research during medical school?
In the summer after my freshman year at Wartburg College, I came to the University of Iowa to do a few months of research in the Department of Neurosurgery. After spending each day in the lab, the clinic, and the operating room, I fell in love with medicine, neurosurgery, and the environment of Iowa City. I transferred to the University of Iowa and performed research full-time in the Department of Neurosurgery alongside my studies. I spent time doing basic science research of the auditory cortex and epilepsy for the Human Brain Research Lab. I also performed clinical research on skull base and cerebrovascular neurosurgery with Dr. Matthew Howard, Dr. David Hasan, and Dr. Jeremy Greenlee. They have been instrumental mentors to the development of my research skills and passion for pursuing neurosurgery.
Summarize the research you will be presenting at this year's Medical Student Research Conference:
I will be presenting the results of a first-in-human study recording brain activity from inside the arteries of awake humans. Currently, recording electrical signals from the brain is only available through scalp EEG—placing electrodes on the outside of the head—which is subject to signal distortion and inaccuracies or it involves invasive surgery where the skull is opened and electrodes are placed onto the brain's surface or penetrated into the cortex, known as electrocorticography. An emerging technique known as endovascular EEG allows for a wire to be inserted into the arterial system through a small hole in the groin and threaded up to the arteries of the brain. Electrical signals can be recorded from the brain without any need for open brain surgery. We are presenting the results from recording the brain through the awake endovascular treatment of brain aneurysms to begin to understand the recording properties of this technique, and potentially record brain structures that are still poorly understood.
What has surprised you doing research as a medical student?
The resident and attending physicians are very supportive at University of Iowa Hospitals & Clinics. They not only allow students to participate in their research but are also enthusiastic about taking on mentorship roles. It seemed intimidating at first to reach out to residents and attending physicians that I did not know and ask them to collaborate on projects or talk about neurosurgery. I found that if you are willing to work hard and stay in touch, the people here are eager to help you reach your goals and provide guidance and advice along the way. Everyone has always been kind and respectful to me, and I have formed many great working relationships and friendships.
What advice do you have for others interested in doing research throughout their medical education?
Don't be afraid to reach out and get involved in things you are passionate about. Don't overcommit yourself. People at the University of Iowa are very nice and welcome you to get involved in their work, but you should add in responsibility gradually and make sure that it is enjoyable, so it doesn't become a stressor along with academics.