Q&A with Meghan Connett: Creating a more inclusive work environment for everyone
Date: Friday, January 22, 2021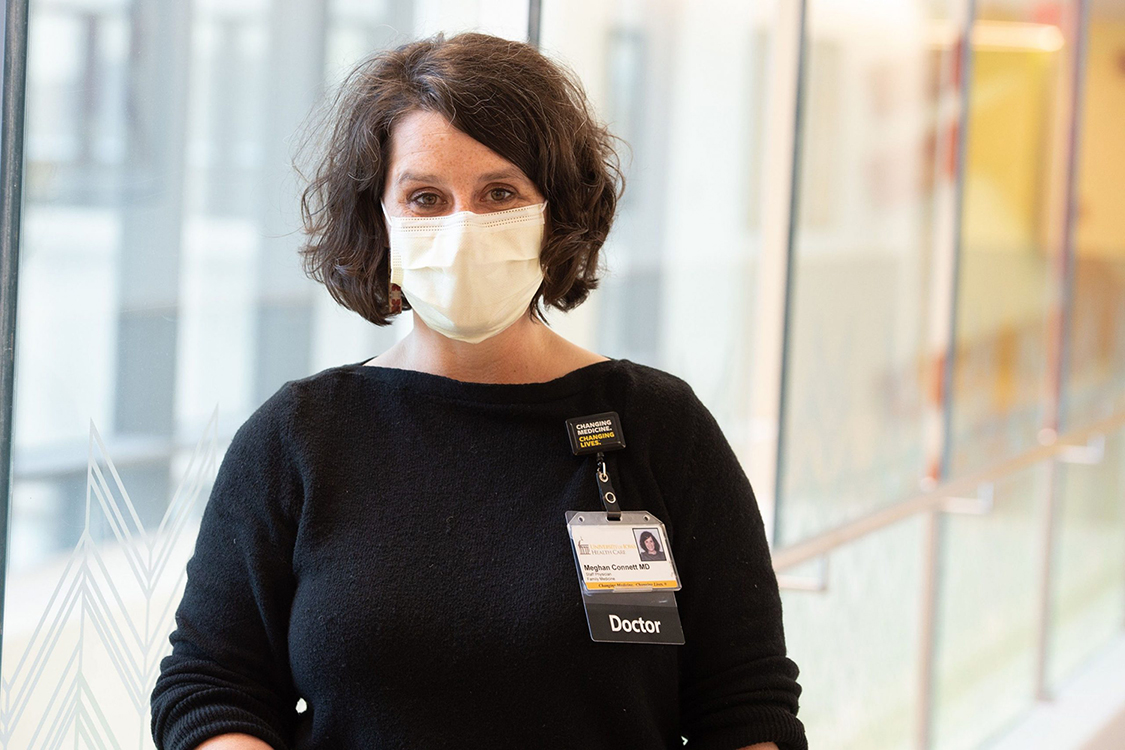 Meghan Connett, MD, clinical assistant professor in family medicine, is the recipient of this year's individual Culturally Responsive Health Care Award.
In her nomination letter, Elise Barlow, administrative services coordinator in the Department of Family Medicine wrote, "Dr. Connett has been a strong advocate in supporting both staff and patients with disabilities, and has created a more inclusive work environment for everyone."
In this Q&A feature, Connett shares her passion for public service and her views about inclusion.
How do your own beliefs align with this Culturally Responsive Health Care Award? 
I view myself as a family doctor trying to make sure patients get everything they need to improve their lives. But there are multiple systemic barriers that can delay that. Sometimes that means figuring out ways to do things differently, that are not by the book, or that no one teaches you. I have many patients who are treated differently because of their race, and that includes their ability to receive health care. I'm an advocate for my patients and acknowledge that changes need to be made, not just for that individual patient, but for those who will come after.
Describe your approach to residency recruitment.
I think there have been a lot of people that would have been great doctors who, because of systems in place, didn't get to that point. In family medicine, we need a broad range of physicians. As recruiters, we should take a holistic approach. We want to create a system that values experiences and diversity and that mirrors the patients for whom we are caring. I think it's important for us to invite people, hope they come to Iowa, and make sure this is a place that's safe, where people are embracing change.
You're an advocate for adults with disabilities. What sparked that passion?
The honest answer is that my brother has Down syndrome. We had a great pediatrician growing up, and to this day, I would still say that she saved my brother's life. We often experience pathos for those with an intellectual disability, but neurodiversity has a vital role in shaping our world and these voices need to be amplified.
Sometimes when people have been involved in a medical system, we don't always realize how much knowledge their caregivers, like my mom, can bring to the table. Those are the voices we need to amplify, those people caring for people with intellectual and developmental disabilities. Often, we believe they don't have a voice, but they do; we're just not willing to listen.
What is your involvement with The Hope House?
Pre-COVID-19, when I visited the Hope House, I screened men coming out of prison for their health care needs. Sometimes that meant just chatting. We could see anyone at the free medical clinic who needed mental health care, or who had hypertension, HIV, or Hepatitis-C. When men get out of prison, they have 30 days and not a lot of support systems in place. We want to make sure we give people the best restart available. Due to COVID-19, we have not been able to reinitiate contact, but are hoping to do so this summer.
Why is being a member of the Diversity, Equity, and Inclusion (DEI) task force for family medicine important to you?
I think it's important as family doctors that we have goals to make systemic changes. You don't want to make mistakes. You don't want to say the wrong thing, but it's important for anyone who is trying to make changes in their own biases and acknowledging their own racism that we are able to talk about that, and the DEI task force allows me to be a part of that conversation.