Receiving support: two medical students share the benefits of financial aid
Date: Thursday, March 4, 2021
Zoe Hildreth, a four-year medical student in the University of Iowa Carver College of Medicine, says she always knew she wanted to pursue a career in STEM. After earning her undergraduate degree, Hildreth was torn about how to use her talents to serve others.
"I decided studying medicine was the best fit, and I can't imagine doing anything else," she says.
As she approaches the end of medical school, Hildreth says loan repayments have become more of a concern, but she finds guidance from staff in the financial aid office.
"There is always someone there to talk to you about where you're at for loans and the best steps for money management strategies," she says.
Originally from Humboldt, Iowa, Hildreth pays in-state tuition and received scholarships for two of her three years in medical school.
"It's a perk that Iowa is able to help out students so much," Hildreth says. "Iowa offers scholarships and grants to make it doable."
A top priority at UI Carver College of Medicine is to keep student debt levels below the national average while helping students explore their interests, which may transform into future career choices.
Roughly 85 to 90% of students apply for financial aid, says director of financial services Linda Bissell, and the college met its goal in 2019 by keeping average medical debt around $172,000, compared to the national average of $196,000.
"It's an expensive education. So, scholarships are really important to help maintain debt levels for our students," Bissell says.  
After graduation, new doctors begin training in their chosen medical specialties at hospitals and health systems around the country. Doctors undergoing residency training, which last three to seven years depending on the specialty, earn a reduced salary, which makes loan repayment especially challenging. 
That's why the financial aid office offers students resources on financial literacy, including money management and loan repayment programs.
"We also meet individually with students, if they want to go over their debt and their options," Bissell says. "We typically meet with at least 85% of the students with debt."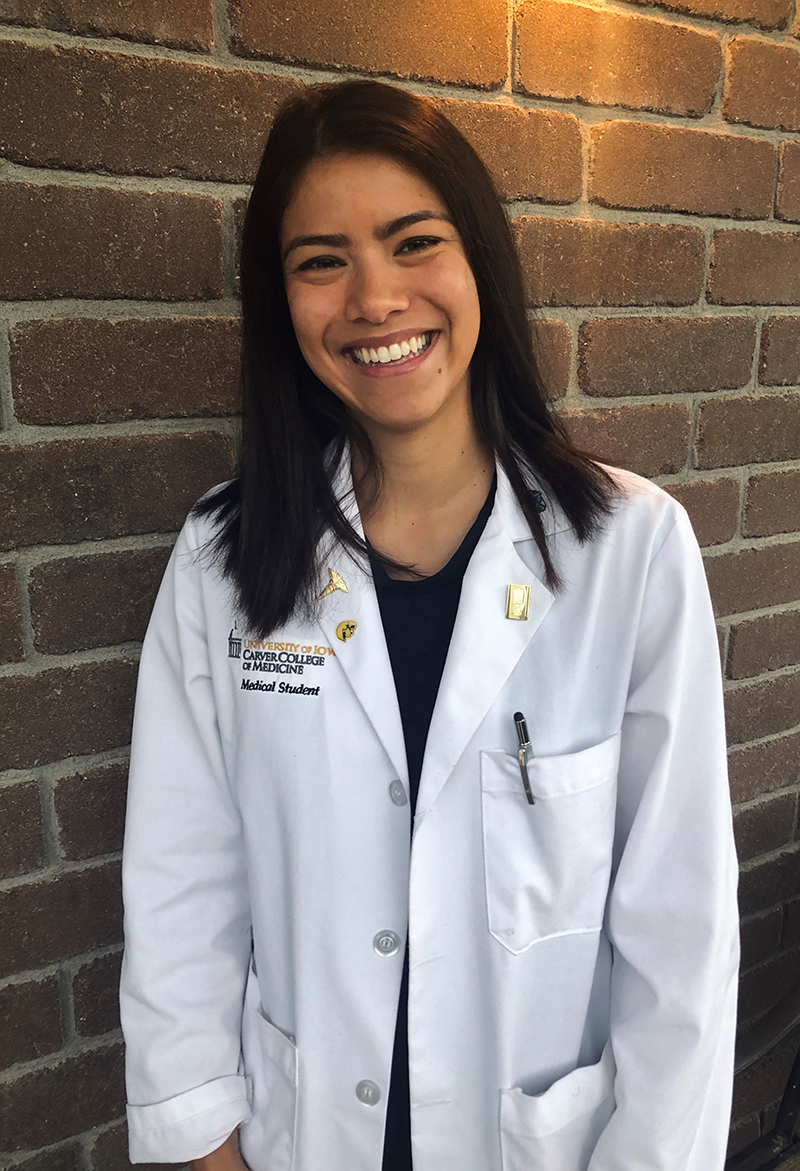 Third-year UI medical student Olivia Chase, who is from Minnetonka, Minnesota, says financial aid made UI tuition comparable to her home state's medical school options.
"What helped make that decision to come to Iowa easier was that I received some financial aid," Chase says.
Bissell says that without financial aid, non-residents would pay roughly $20,000 more for tuition. To help these students, tuition price is a factor that determines the level of grant support they qualify for.
Less financial stress, more exploration
Thanks to private support to the college, Hildreth and Chase are able to pursue their interests with fewer financial worries.
Hildreth is a clinic coordinator for a free, student-run mobile clinic called Inside Out Reentry Community. This clinic serves recently incarcerated individuals who are reentering society and seeking health care.
Hildreth helped set up the clinic along with a group of other UI medical students.
"I have not come across a story and heard about [a student-run mobile clinic] that is as well developed as Iowa's and sees as many patients," Hildreth says. "Talking to people on the surface level, I think we have one of the best."
Chase received grant funding to complete research in Brazil during her first two years of medical school. She participated in infectious disease research and joined a clinical care team at an infectious disease hospital.
"I got to see advanced presentations on infectious diseases that I'll never be able to see here in the U.S.," Chase says.
Although she is undecided on her future career path, this opportunity inspired her to consider infectious disease research.
Chase also participates in the UI Mobile Clinic to serve patients with no health insurance. She says she wants to serve underrepresented communities in her future career.
"That was initially one of the things that drew me into medicine," Chase says. "Being of a mixed racial background, there's a lot of health inequity based on race. I think COVID-19 has drawn light to a lot of those disparities."
Hildreth and Chase are both members of the Organization of Student Representatives (OSR), a student branch of the Association of American Medical Colleges (AAMC).
At a fall OSR conference, they had the opportunity to connect with medical students from around the country and compare their medical school experiences.
"Every single student resource we offer is at least on par, if not miles above, with other schools across the country," Hildreth says.
Learn more about the UI Carver College of Medicine Financial Aid Office