Roghair's mission to become a role model and advocate for patients, colleagues with disabilities
Date: Thursday, October 13, 2022
Neonatology professor Robert Roghair, MD, was drawn to medicine by the combination of challenge and the opportunity to change patients' lives.
"I have always been fascinated by the complexity of human physiology," Roghair says, "and I wanted to use any insights I could find to help people lead longer and happier lives."
In addition to his clinical role, Roghair leads a research lab in the UI Stead Family Department of Pediatrics, investigating the link between adverse perinatal environment and the risk of adult hypertension and obesity.
Mentorship has always been a keystone of Roghair's career. As a research mentor, he finds the process of discovering and nurturing investigators' unique strengths particularly rewarding.
"I love the delayed gratification that comes when I see greatness in someone, strongly encourage them to pursue it, and then see it all pay off for them and society," he says.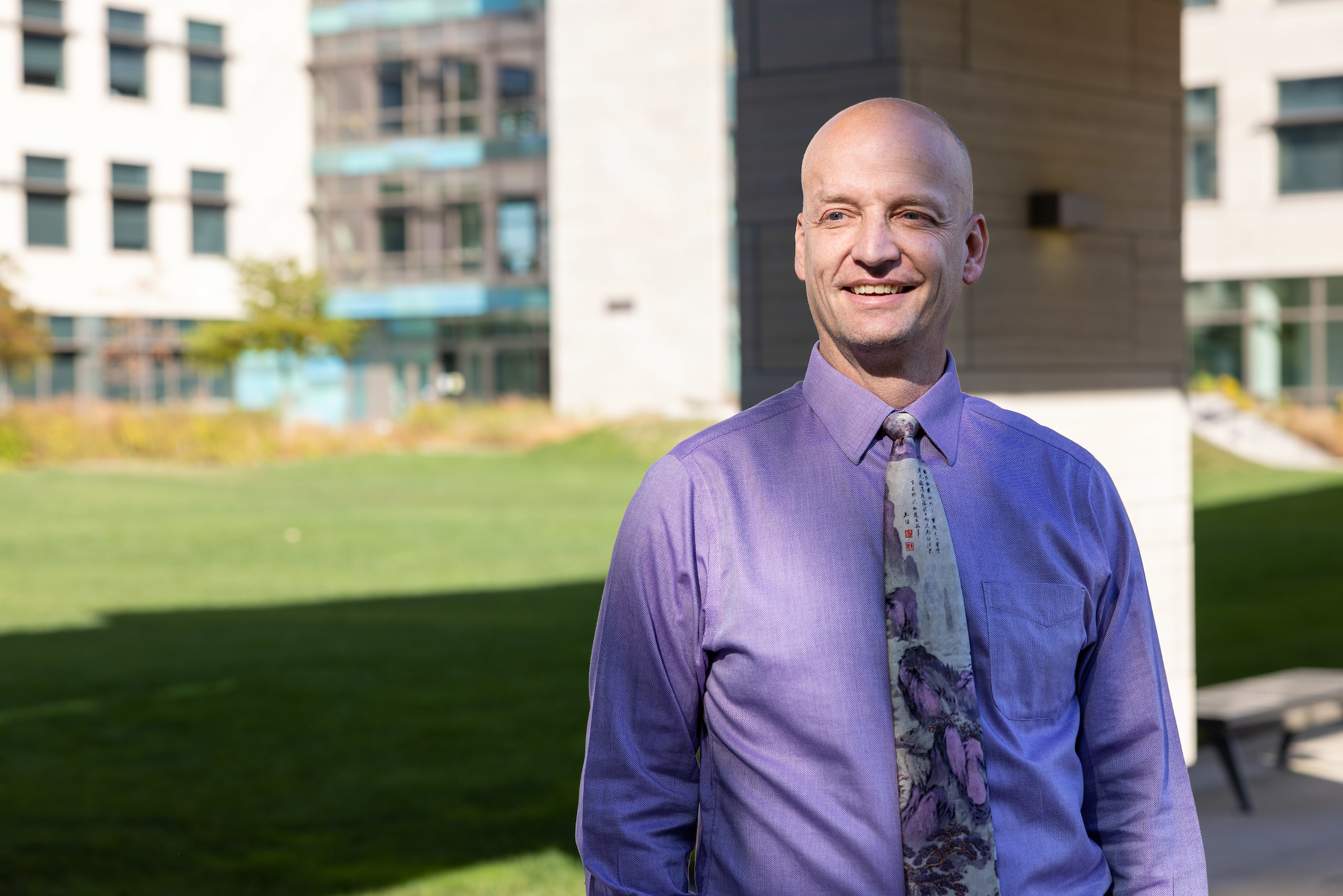 More recently, he has been seeking out ways to mentor others outside of the lab. Roghair, who was born with congenital anomalies in his hands, used to do everything he could to diminish his colleagues' and supervisors' awareness of his physical disability. In the next phase of his academic career, he is seeing things differently.
"I'm no longer really comfortable with people saying it's 'not a big deal' that I have a disability," Roghair says. "It is part of me, and it made me who I am, and I'm satisfied with the person I've become."
'Role models can help'
Roghair's change of heart began when he encountered some concerning statistics about individuals with disabilities in the health care field.
According to the American Medical Association, only one-third of medical residents who reported having a disability had requested accommodations to meet their needs. The number of medical students who had requested accommodations was just 60%.
Roghair understands why individuals with disabilities may hesitate to seek support.
"It's a fear of misperception," he says. "As a physician in pediatrics who's taking care of premature babies, a lot of people might not feel comfortable with my disability because the babies are so tiny and delicate. But people with disabilities are able to provide that care."
Roghair points out that individuals with disabilities can bring unique empathy and perspective to patient care from their own experiences.
"In neonatology, a certain percentage of our babies are born with congenital anomalies. We can help parents understand that these babies don't necessarily have to grow up with limited career aspirations, for example," he says. "My own parents saw me born with the hand deformities I have, and becoming a physician was the furthest thing from their mind, I think. Having people out there as role models can help."
He believes that being that role model—for everyone from parents of his littlest patients to other health care professionals—can make the health care community a more welcoming and effective place for patients and employees.
"My own parents saw me born with the hand deformities I have, and becoming a physician was the furthest thing from their mind, I think. Having people out there as role models can help."
The Diversability Employee Resource Group
One way Roghair plans to live out that goal is through the new Diversability Employee Resource Group that was established in June 2022.
"I thought it would be great to start something to amplify the voices of employees with disabilities, their caregivers, and/or allies to do greater awareness building, some networking, and potentially mentoring," says Megan Meyer, MBA, the group's chair and assistant director of Career Enhancement and Diversity, Equity and Inclusion for UI Holden Comprehensive Cancer Center.
There is also a newly formed group for students in the Carver College of Medicine: Medical Students with Disability and Chronic Illness at Iowa (MSDCI@Iowa). Chapter founder and co-president Madeline Ungs says that she hopes the group creates a support system for navigating the accommodations process.
But first, they hope to build a community.
"Starting off, we're definitely a place of support, and we're bringing awareness that students with disabilities are here, we exist, and we're happy to share our experiences," says Ungs, who is a first-year medical student.
"I wonder how many people out there who have a disability think they can't be a doctor," says co-president and first-year medical student Ethan Angle. "Our mission is to lift these people up. We might not be able to do things the way everyone else does, but in order to get here, we've had to find ways to do things in unique fashions, and that shows it's possible to continue doing that."
The employee and student groups may even find opportunities to work together.
"It would be great to collaborate with the medical student group when we have overlapping priorities that we're working on," Meyer says. "All ships rise together. We can work together to make it better for everybody."
Though he aims to be a caring resource for individuals with disabilities, Roghair's top piece of advice applies to everyone in the health care field.
"Always be curious about how and why things happen, and be honest with yourself about your passions," he says. "Build off of your strengths and surround yourself with people that will help you overcome your weaknesses."