Short Coat Podcasts are long on impact
Date: Thursday, May 24, 2018
By Logan Grant, a UI senior majoring in journalism
Pick a topic—any topic—and you can likely find a podcast on it.
Eight years ago, through some innovative thinking on the part of UI Carver College of Medicine staff, the idea of producing a podcast with topics to entertain and inspire current and prospective medical students was born.
Meeting an information need
Today, The Short Coat Podcast delivers weekly installments for download to a hungry world-wide audience of more than 20,000 with a simple message: Here's what it's really like to be a student in medical school.
Dave Etler, a program coordinator in the college's Writing and Humanities Program, came up with the idea for the podcast in 2010 while working as a clerk in the college. With the help of Jason Lewis, Writing and Humanities Program director, he was able to make his idea a reality.
Originally the podcast was created to interview guests coming to speak at the college, but the active group of students recruited to assist with production turned it into a weekly production offering something more—a litany of topics that were on their own minds.
No topic is sacred
Recent Short Coat topics include: family strife, parenting fails, unwanted sexual attention from patients, and romance when selecting a medical school.
The podcast uses questions sent in by listeners and current events to drive the discussion each week along with a few antics thrown in. The podcast aims to talk about issues in medical education and the experiences of Carver College of Medicine students that aren't always discussed in more official forums. Listeners are primarily undergraduate students considering medical school, but there's evidence that medical students and medical professionals alike satisfy their guilty pleasures by listening in each week.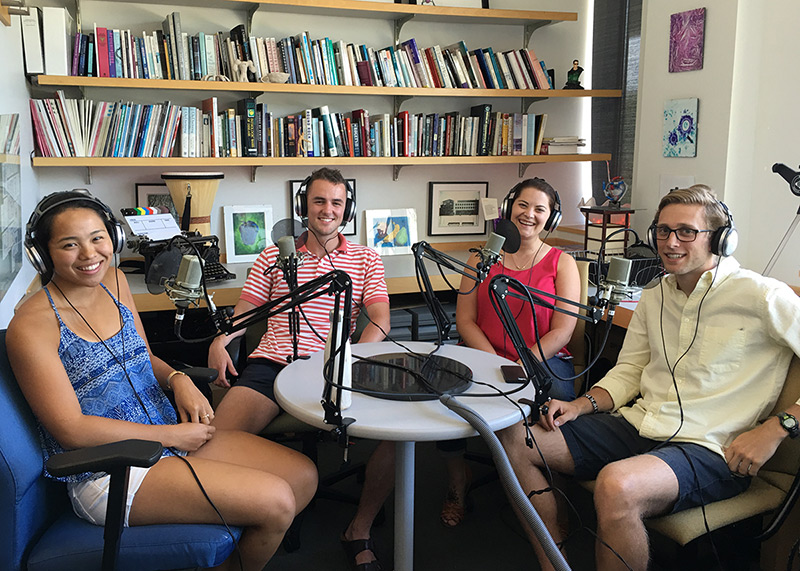 Participants in a recent Short Coat Podcast production are, from left, Vivian Zhu, Kyle Anderson, Kylie Miller, and Brady Campbell.
Joining in the fun
This reporter—who will never be a medical student—sat in on a recent production session and found the lively content and spontaneous repartee are things anyone can enjoy.
Etler himself isn't a doctor or medical student but he plays the role of the naïve observer, asking questions others might have.
This guest, who was invited to join in the discussion, observed a production with three key parts, which turns out to be typical of most Short Coat offerings.
A winning formula
Etler starts by asking the week's cohosts (they vary each week and are filled on a first-come, first-served basis) a question sent in by a listener. This week's question: "Do older students entering medical school have an advantage on the younger ones?"
To Etler this is one of the most rewarding parts of doing the podcast. It makes it worth it to have engaged listeners around the globe and to hear questions from them.
"One of my favorite things about producing the Short Coat Podcast is when listeners come to me and thank me for doing the podcast," Etler says. "I'm not sure all podcasters get to experience that but I do, and I love it because it means we are doing something worthwhile." 
Next, the group discusses different current events. Today's was the "Laurel or Yanny" viral sound clip and why it sounds different to different people.
Most productions wrap up with Etler keeping things fun through some kind of game. He wants the podcast to be a way for the students to wind down from the stress of medicine. The show also allows the cohosts to have a protective space every week to reflect on what they are becoming as future physicians.
The students' passion for the podcast is evident. Being able to hear from four to five individuals instead of just one is what makes this podcast the most impactful. Many of the cohosts are from different years in medical school and have varying medical and educational backgrounds, which add yet another layer of depth to this podcast.
Etler has a way of making talking about medicine exciting for everyone. When you listen to the podcast you can tell the cohosts enjoy the opportunity to share their thoughts and advice with the listeners in this unscripted way.
A tight schedule
On Mondays Etler sends out a possible podcast topic and recruits a panel of med students to host that week. By Tuesday his panel is selected. Fridays are recording days, with each session eating up only a modest two hours in the busy students' schedules.
Etler then takes the recordings and edits into podcast format, with a new episode introduced each Thursday.
Getting noticed
Recently Iowa Public Radio featured the Short Coat Podcasts as a first-rate example of Iowa-made web features. Etler and the team also received a 2018 Improving Our Workplace Award from the University.
If you haven't checked out the Short Coat Podcast you need to. Episodes air every Thursday and can be found on the Short Coat Podcast website or through iTunes, Android, Stitcher, TuneIn, and more.