UI study highlights potential new treatment option for migraine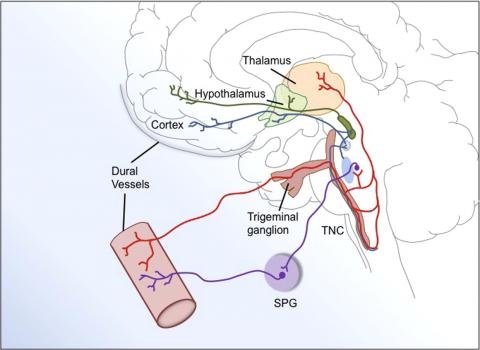 Date: Thursday, July 8, 2021
Research by University of Iowa scientists points to a potential new target for preventing and treating migraines, a condition that causes severe headaches and other sensory disruptions.
The findings suggested that two neuropeptides that can cause migraine in people act through independent pathways. Current migraine therapies target only one of those neuropeptides, known as CGRP (calcitonin gene-related peptide). The new study, published in the Journal of Neuroscience, suggests that drugs targeting the other neuropeptide, called PACAP (pituitary adenylate cyclase-activating polypeptide), might be effective for patients who do not respond to CGRP-based therapeutics.
"Migraine is more than just a bad headache; it is a neurological sensory disorder that can be debilitating for patients," says Andy Russo, PhD, professor of molecular physiology and biophysics, and neurology at the UI Carver College of Medicine. "The relationship between these two neuropeptides is relevant because although both peptides can induce migraine in people, to date only drugs that target CGRP are available."
Russo's team showed that both neuropeptides prompted migraine-like sensitivity to light in mice. Importantly, they found that blocking one neuropeptide did not prevent the other one from causing the migraine-like symptoms, suggesting that the two peptides act through separate, independent pathways to cause symptoms.
Russo notes that although there are at least six CGRP-based drugs and antibodies that are FDA-approved for treating migraine, they appear to be effective in only about half of patients with migraine.
"Therapeutics that target PACAP may provide relief for patients who are not helped by the CGRP therapeutics," says Russo, who also is a member of the Iowa Neuroscience Institute. "Clinical trials using a humanized PACAP antibody to attenuate or prevent migraine in patients are now underway."
In addition to Russo, the research team included UI scientists Adisa Kuburas, Bianca Mason, Benjamin Hing, Anne-Sophie Wattiez, Alyssa Reis, and Levi Sowers. The team also included colleagues from Alder Biopharmaceuticals, in Bothell, Washington:  Cristina Moldovan Loomis, and Leon Garcia-Martinez.
The research was funded in part by grants from the National Institute of Neurological Disorders and Stroke, and a grant from Alder Biopharmaceuticals. Russo is a consultant for Alder Biopharmaceuticals.