Victor Hatcher: Embracing opportunities
Date: Friday, March 13, 2020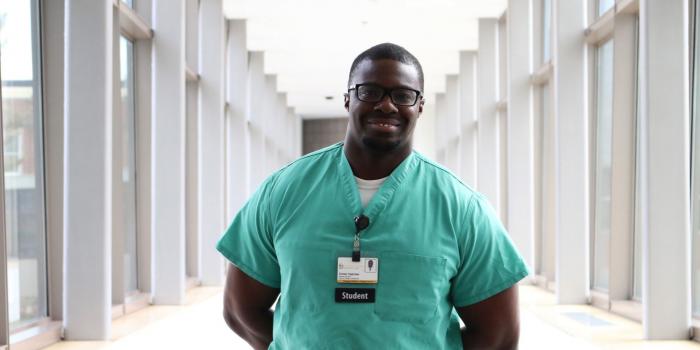 For fourth-year Carver College of Medicine student Victor Hatcher, the biggest takeaway from his time at Iowa has been the opportunities he's been given. 
"You have to be open-minded. Take every experience that's offered to you," says Hatcher. "Even if those experiences don't end up being exactly what you're looking for, they often branch off into other paths that allow you to meet new people and experience new things."
Late bloomer
As an undergraduate at Miami University, Hatcher wanted to be a wildlife biologist. It wasn't until he graduated with his undergraduate degree that he realized medicine was his true calling. 
"I was a late bloomer," says Hatcher. "I began volunteering and shadowing at a nearby hospital, and that eventually led to a job in the post-anesthesia care unit. I just fell in love with it."
After deciding on a career in medicine, Hatcher focused on choosing a medical school. 
"The things I've enjoyed most about Carver are the same things that made me pick it," says Hatcher. "It's a community, first and foremost. We're always looking to help one another, whether it be suggesting study tips, talking to one another, or providing a support system."
Community-centered
When speaking on student panels, Hatcher says he always emphasizes the sense of community he's experienced at the Carver College of Medicine. 
"A lot of schools will tell you they're community-focused, but at Carver, you live and breathe that every day," he says. "From the moment you step on campus to the time you graduate, you're building relationships that you'll have forever."
This community aspect exists with faculty and administrative staff as well as students, Hatcher notes.
"They're always willing to talk, and they really strive to make sure everyone has a place within the community," he says. "They want to see you grow and become the person you want to become."
Embracing opportunities
While his focus is currently on securing residency training in vascular surgery, Hatcher's dual interests in research and people means his future plans center around the academic side of medicine.
"I want to be involved with the academic lives of students and also be able to help them through the daily aspects of the medical school journey," he says. 
Hatcher's time at Iowa may be drawing to a close, but the experiences he's had here will stay with him forever.
"I took every opportunity that was offered to me," he says. "This allowed me to meet new people and experience new things. They put me in the position that I'm in and I cherish every one of those experiences."
---
Victor's results
Victor matched in vascular surgery at University of Iowa Hospitals & Clinics in Iowa City, IA.