Weigel named to National Academy of Medicine
Date: Friday, October 12, 2018
Ronald J. Weigel, MD, PhD, MBA, the E.A. Crowell Jr. Professor and Chairman of the Department of Surgery with University of Iowa Health Care, has been elected to the National Academy of Medicine (NAM), effective Oct. 1, 2018. 
The NAM elects no more than 70 national and 10 international members annually. Membership in the NAM reflects the height of professional achievement and commitment to service.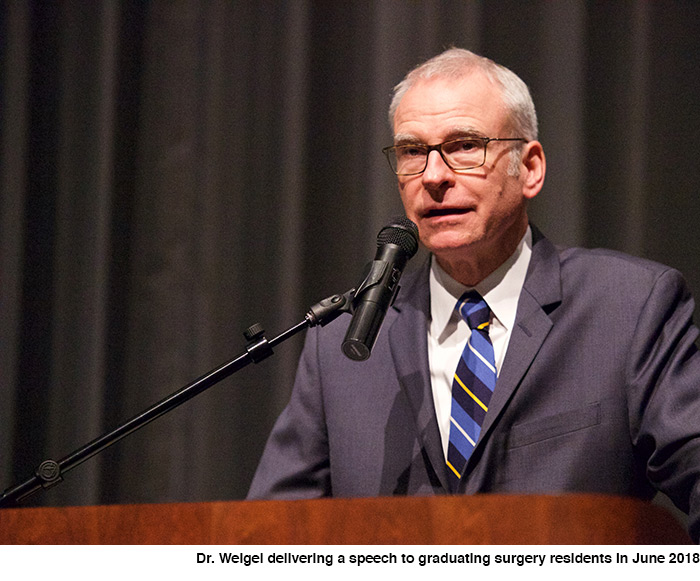 Weigel's laboratory has a long-standing interest in determining the mechanisms of hormone response in breast cancer. His team is working to identify transcriptional mechanisms regulating patterns of gene expression in breast and colon cancer. Weigel identified key drivers of hormone response in breast cancer and pioneered the technique of expression analysis from archival breast cancer specimens heralding the era of molecular diagnostics.
He joined the faculty of the UI Roy J. and Lucille A. Carver College of Medicine in 2005. He is a professor of surgical oncology and endocrine surgery, biochemistry, anatomy and cell biology, and molecular physiology and biophysics. Weigel also serves as associate vice president of the UI Health Alliance. 
"We are deeply pleased that Dr. Weigel is receiving this well-deserved high honor," said Brooks Jackson, MD, MBA, University of Iowa vice president for medical affairs, and dean of the UI Carver College of Medicine. "He is a shining example of the overall strength of our faculty who provide excellent patient care, make advances that transform medicine through their research, and train and mentor the health care professionals of the future."
Weigel earned bachelor and master of science degrees in chemical engineering from the Massachusetts Institute of Technology. He received his medical degree from Yale University School of Medicine and a doctoral degree in molecular biophysics and biochemistry from the Yale University Graduate School. He received his surgical training at Duke University Medical Center. He earned his master of business administration from the Wharton School at the University of Pennsylvania.
Weigel joins the following UI faculty and administrators who have been elected members of the NAM: 
François Abboud
Dale Abel
Nancy Andreasen
Joseph (Jody) Buckwalter
Kathleen Buckwalter
Kevin Campbell
John Colloton
Susan Curry
Bruce Gantz
James Merchant
Jeff Murray
Jennifer Niebyl
Debra Schwinn
Val Sheffield
Richard Smith
Robert Wallace
Michael Welsh