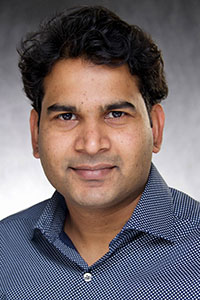 Assistant Professor of Internal Medicine - Cardiovascular Medicine
Education
MS, Pharmacology, National Institute of Pharmaceutical Education and Research (India)
PhD, Pharmacology & Toxicology, National Institute of Pharmaceutical Education and Research (India)
Research Summary
Dr. Vikram' s research interest includes understanding the role of environmental factors (diet and microbiota) in cardiometabolic disorders. The identified genetic variants in genome-wide association studies cumulatively explain <50% of cardiovascular and metabolic disorders outcomes which underlines the significant role of environmental factors-gene interactions. The lag between environmental change and the genetic adaptations is perhaps the underlying cause of increased incidence of cardiometabolic disorders. During my doctoral studies, I studied the role of diet-induced insulin-resistance in the aging-related disorders. We identified that over-activation of the mitogenic path of insulin-signaling alters expression of several genes involved in aging and aging-related diseases. The gut microbiota, another environmental factor, is a well-known player in the pathogenesis of cardiovascular and metabolic disorders. In my post-doctoral research, I worked on to understand the microbiota-microRNA connections in the vasculature. At present, the research in my laboratory focuses on understanding the role of gut microbiota-sensitive microRNAs in the heart failure, vascular dysfunction, and diabetes.
Publications
Tikoo, K., Vikram, A., Shrivastava, S., Jena, G., Shah, H. & Chhabra, R. (2017). Parental High-Fat Diet Promotes Inflammatory and Senescence-Related Changes in Prostate. Oxid Med Cell Longev,(2017:4962950). PMID: 28261375.
Vikram, A., Kim, Y., Kumar, S., Li, Q., Kassan, M., Jacobs, J. S. & Irani, K. (2017). The microbiome remotely promotes endothelial dysfunction through vascular microRNA-204-mediated downregulation of SIRTUIN1. Nature Communications,(7), 12565. DOI: 10.1038/ncomms12565.
Vikram, A., Lewarchik, C. M., Yoon, J., Naqvi, A., Kumar, S., Morgan, G. M., Jacobs, J. S., Li, Q., Kim, Y., Kassan, M., Liu, J., Gabani, M., Kumar, A., Mehdi, H., Zhu, X., Guan, X., Kutschke, W., Zhang, X., Boudreau, R. L., Dai, S., Matasic, D. S., Jung, S., Margulies, K. B., kumar, V., Bachschmid, M. M., London, B. & Irani, K. (2017). Sirtuin1 regulates cardiac electrical activity by deacetylating the cardiac sodium channel. Nature Medicine, 23, 361-367. DOI: 10.1038/nm.4284.