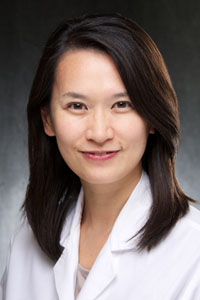 Clinical Assistant Professor of Internal Medicine - General Internal Medicine
Education
MD, Yamanashi Medical University

Internship, United States Naval Hospital
Resident, Internal Medicine, University of South Dakota
Licensure and Certifications
Licensed Practitioner - Japanese Board of Medicine
Publications
Shinozaki, G., Chan, A. C., Sparr, N. A., Zarei, K., Gaul, L. N., Heinzman, J. T., Robles, J., Yuki, K., Chronis, T. J., Ando, T., Wong, T., Sabbagh, S., Weckmann, M. T., Lee, S., Yamada, T., Karam, M. D., Noiseux, N. O., Shinozaki, E. & Cromwell, J. W. (2018). Delirium detection by a novel bispectral electroencephalography device in general hospital. Psychiatry and Clinical Neurosciences. PMID: 30246448.
Freeman, J. W., Free, T., Shinozaki, E. & Koch, M. (2010). The sharp point of care: safety and Creutzfeldt-Jakob disease. South Dakota Medicine, 63(8), 281-3.
Sood, A., Prasad, K., Chhatwani, L., Shinozaki, E., Cha, S. S., Loehrer, L. L. & Wahner-Roedler, D. L. (2009). Patient's attitudes and preferences about participation and recruitment strategies clinical trials. Mayo Clinic Proceedings, 84(3), 243-7.
Ebbert, J. O., Glover, E. D., Shinozaki, E., Schroeder, D. R. & Dale, L. C. (2008). Predictors of smokeless tobacco abstinence. American Journal of Health Behavior, 32(6), 735-40.
(2011). DETOX: Medical or Psychiatric? (poster presentation). American Psychiatric Association Meeting.
(2010). A case of simvastatin induced necrotizing myopathy (poster presentation). Chamberlain, SD: 2010 South Dakota Division ACP Meeting.
Shinozaki, E. Comparative sociology of concept of 'child'. Tokyo University.