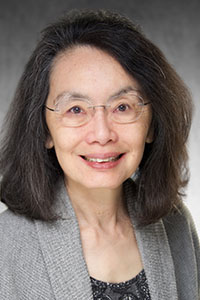 Professor of Internal Medicine - Immunology
Contact Information
Primary Office
B191 ML
Iowa City, IA 52242
319-335-9223
Education
AB, University of California, Berkeley, California
PhD, Biochemistry and Molecular Biology, Harvard University, Cambridge, Massachusetts

Postdoctoral Fellow, Dept of Biochemistry & Biophysics, University of Californa, San Francisco
Education/Training Program Affiliations
Interdisciplinary Graduate Program in Molecular Medicine, Interdisciplinary Graduate Program in Neuroscience, Interdisciplinary Graduate Program in Translational Biomedicine, Medical Scientist Training Program
Center, Program and Institute Affiliations
Center on Aging, Holden Comprehensive Cancer Center
Research Summary
Our laboratory investigates the structure and function of the neuronal cytoskeleton and its role in neurodegenerative diseases
Tau protein is a microtubule-associated protein that is critical for neuronal development. Our laboratory has been elucidating new functions for tau beyond its ability to promote microtubule assembly and stability. We have found that tau can be a membrane-associated protein with putative roles in signal transduction in neuronal cells. In particular, we have discovered an interaction between tau and src family non-receptor tyrosine kinases. We are currently investigating the functional implications of this interaction in neuronal cells. For example, the interaction may affect the spatial localization of tau, the activity of the tyrosine kinase, the actin cytoskeleton, the cell cycle, or the phosphorylation of tau. We are also investigating other new interactions of tau. In our studies, we use a combination of cell biological, molecular biological, and biochemical tools and assays.
Tau is also a prominent component of the neurofibrillary tangles of Alzheimer's disease. In addition, mutations in the tau gene cause other age-related neurodegenerative diseases such as frontotemporal dementia. The mechanisms underlying the formation of abnormal tau lesions in Alzheimer's disease and other dementias and the mechanisms that cause neuronal cell death in these age-related diseases are unknown. We are testing the hypothesis that tau's interactions with proteins other than microtubules, have a role in the neurodegenerative process.