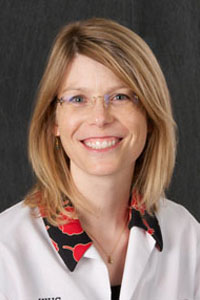 Associate Director, Internal Medicine Residency Program
Clinical Professor of Internal Medicine - General Internal Medicine
Contact Information
Primary Office
E 327 GH
200 Hawkins Drive
Iowa City, IA 52242
319-353-7821
Clinic
4635 IRL
920 E 2nd Ave
Coralville, IA 52241
319-467-2000
Education
MD, University of Iowa Carver College of Medicine

Resident, University of Iowa Hospitals & Clinics
Licensure and Certifications
Basic Life Support (BLS) - American Heart Association
Federal Controlled Substance Certification - United States Department of Justice, Drug Enforcement Administration
Iowa Controlled Substance Certification - Iowa Board of Pharmacy
Iowa Medical License - Iowa Board of Medicine
Publications
Ness, J., Aronow, W. S. & Beck, G. (2006). Menopausal symptoms after cessation of hormone replacement therapy. Maturitas, 53(3), 356-61. PMID: 16051451.
Phillips, B. B., Digmann, R. R. & Beck, M. G. (2006). Hepatitis associated with low-dose venlafaxine for postmenopausal vasomotor symptoms. The Annals of pharmacotherapy, 40(2), 323-7. PMID: 16418323.
Nygaard, I., Zmolek, M. G. (1995). Exercise pad testing in continent exercisers: reproducibility and correlation with voided volume, pyridium staining, and type of exercise. Neurourology and urodynamics, 14(2), 125-9. PMID: 7780439.