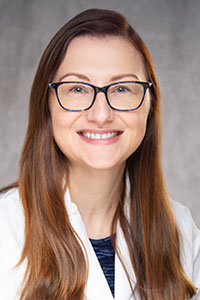 Clinical Assistant Professor of Internal Medicine
Education
BA, English, Loyola University
MD, Rush Medical College
Licensure and Certifications
Psychiatry Certification - American Board of Psychiatry and Neurology
Internal Medicine Certification - American Board of Internal Medicine
Publications
Capaldi, 2nd, V. F., Zembrzuska, H. D. (2015). Thrust Into the Breach: Psychiatry in a Combat Zone Within 1 Year of Residency Completion. Academic psychiatry : the journal of the American Association of Directors of Psychiatric Residency Training and the Association for Academic Psychiatry, 39(4), 410-5. PMID: 25636255.
Zembrzuska, H., Ally, M. R., Goldberg, M. E., Watson, J., Veerappan, G. R. & Horwhat, J. D. (2012). Treatment of intractable rectal stump drainage with cryoablation. (Vols. 107). (10), pp. 1593-5. The American journal of gastroenterology. PMID: 23034622.
Zembrzuska, H., Papadopoulos, P. J., Gilliland, W. R. & Murphey, M. D. (2012). Musculoskeletal Photo Dx: Painless groin mass in an active-duty soldier. J Muscoskel Med, 29(2), 53-5.
Sessums, L. L., Zembrzuska, H. & Jackson, J. L. (2011). Does this patient have medical decision-making capacity?. JAMA, 306(4), 420-7. PMID: 21791691.