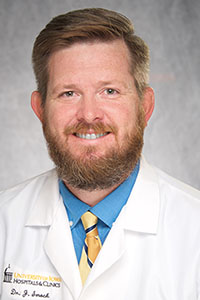 Associate Program Director, Internal Medicine Residency Program
VA Site Director, Internal Medicine Residency Program
Clinical Associate Professor of Internal Medicine - General Internal Medicine
Contact Information
Primary Office
E325 GH
Iowa City, IA 52242
319-384-6501
Education
MD, University of Iowa Roy J. and Lucille A. Carver College of Medicine

Resident, Internal Medicine, University of Iowa Hospitals & Clinics
Chief Resident, Internal Medicine, University of Iowa Hospitals & Clinics
Licensure and Certifications
Federal Controlled Substance Certification - United States Department of Justice, Drug Enforcement Administration
Iowa Medical License - Iowa Board of Medicine
Publications
Schwartz, A., Garg, A., Statz, G. & Smock, J. (2020). Endotipsitis: a rare case of endovascular infection with ESBL Klebsiella pneumoniae. BMJ Case Reports, 13(4). PMID: 32345585.
Reed, E. R., Latourelle, J. C., Bockholt, J. H., Bregu, J., Smock, J., Paulsen, J. S. & Myers, R. H. (2017). MicroRNAs in CSF as prodromal biomarkers for Huntington disease in the PREDICT-HD study. Neurology. PMID: 29282329.
Kamath, A. S., Smock, J., Kaboli, P. J., Ferguson, K., Thomas, K. & Szot, J. (2012). Implementing a standard HAND-IN-OUT verbal communication tool and SAFE checklist. Academic Internal Medicine Insight, 10(4), 18-19, 23.