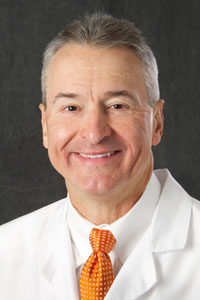 Clinical Professor of Internal Medicine - Cardiovascular Medicine
Contact Information
Office
4426B JCP
Iowa City, IA 52242
319-353-8153
Education
MD, Medicine, University of Iowa College of Medicine

Internship, Internal Medicine, University of Iowa Hospitals & Clinics
Resident, Internal Medicine, Thomas Jefferson University Hospital
Fellow, Cardiology, Thomas Jefferson University Hospital
Fellow, Interventional Cardiology & Electrophysiology, University of Missouri Hospitals
Licensure and Certifications
Cardiac Electrophysiology - Specialty Board Certification
Cardiovascular Disease - Specialty Board Certification
License - Missouri Board of Registration for the Healing Arts
Internal Medicine Board Certification - American Board of Medical Examiners
License - Pennsylvania State Board of Medicine
License - New Jersey State Board of Medical Examiners
Diplomate - National Board of Medical Examiners
License - Virginia Board of Medicine
License - Iowa Board of Medicine
License - Illinois Department of Professional Regulation
Research Summary
My current research has been looking at improving cardiac performance in many ways…
In patients with specific conduction abnormalities such as right bundle branch block, we are studying new pacing techniques to improve ejection fraction and cardiac output.
In patients with heart failure we are also looking at neuromodulation by pacing through the wall of the pulmonary artery and stimulating specific nerve groups that result in better left ventricular contractility.
We are studying long-term lead performance in women with submammary device placements.
We are currently involved in drug and device trials that study better pacing vectors in cardiac resynchronization therapy (CRT), autothreshold mechanisms in CRT, MRI safe devices, new downsized pacing leads, vagal nerve stimulation in heart failure, new oral medications to convert atrial fibrillation to sinus rhythm without electrical cardioversion, new catheter systems to better treat persistent atrial fibrillation, and subcutaneous defibrillator placement.
We are also studying techniques to decrease procedural times and costs such as AV nodal ablation from the pacemaker pocket and transseptal catheterization without using a needle device. We have many other "homegrown" projects looking at pre- and post-procedural care and testing to optimize patient satisfaction and outcomes.