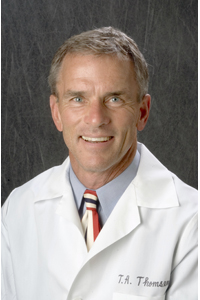 Director, Supportive and Palliative Care Program
Clinical Professor of Internal Medicine - General Internal Medicine
Clinical Professor of Orthopedics and Rehabilitation
Contact Information
Primary Office
4630 John Colloton Pavilion
Iowa City, IA 52242
319-353-8582
Education
MD, University of Iowa College of Medicine

Resident, Internal Medicine Internship, Southern Illinois University
Resident, General Surgery, University of Iowa
Fellow, Cardiovascular Surgery, University of Iowa
Fellow, Cardiovascular Surgery Refresher, University of Iowa
Licensure and Certifications
Advanced Cardiovascular Life Support - American Heart Association
Advanced Trauma Operative Management Course Certification - American College of Surgeons
Advanced Trauma Operative Management Course Instructor - American College of Surgeons
Advanced Trauma Life Support Instructor - American College of Surgeons
Advanced Trauma Life Support Certification - American College of Surgeons
Registered Vascular Technician
Board Certified in Thoracic Surgery - American Board of Thoracic Surgery
Board Certified in Surgery - American Board of Surgery
Iowa Medical License - Iowa Board of Medicine
Publications
Hughley, B. B., Sperry, S. M., Thomsen, T. A., Charlton, M. E. & Pagedar, N. A. (2016). Survival outcomes in elderly patients with untreated upper aerodigestive tract cancer. Head & Neck. PMID: 27507712.
Light, T. D., Choi, K. C., Thomsen, T. A., Skeete, D. A., Latenser, B. A., Born, J. M., Lewis, 2nd, R. W., Wibbenmeyer, L. A., Shyamalkumar, N. D., Lynch, C. F. & Kealey, G. P. (2010). Long-term outcomes of patients with necrotizing fasciitis. Journal of burn care & research : official publication of the American Burn Association, 31(1), 93-9. PMID: 20061842.
Arshava, E. V., Mitchell, C., Thomsen, T. & Wilkinson, N. W. (2006). Delayed perforation of the defunctionalized stomach after Roux-en-Y gastric bypass surgery. Surg Obes Relat Dis, 2(4), 472-6; discussion 476-7. PMID: 16925384.
Thomsen, T. A., Printen, K. J. (1978). Abdominoperineal resection in the octogenarian. J Am Geriatr Soc, 26(8), 363-5. PMID: 670624.
Thomsen, T. A., Hokanson, E. & Barnes, R. W. (1977). Automatic quantitation of venous hemodynamics with an electrically calibrated strain gauge plethysmograph. Med Instrum, 11(4), 240-3. PMID: 895598.
Thomsen, T. A. The Physician Leadership Dilemma, Editorial. Iowa Medical Society.