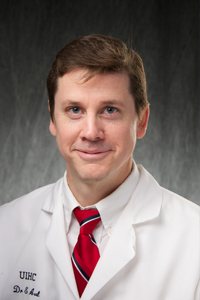 Co-Director: Division of Clinical Electrophysiology, Neurology
Director: EMG Lab
Specialty: Clinical Neurophysiology
Specialty: Neurology
Clinical Assistant Professor of Neurology
Contact Information
Primary Office
2100 RCP
200 Hawkins Drive
Iowa City, IA 52242
319-356-8766
Education
BS, Behavioral Neuroscience, University of Pittsburgh
MD, University of Pittsburgh

Resident, Internal Medicine, Mercy Hospital
Resident, Neurology, University of Iowa
Fellow, Clinical Neurophysiology, University of Iowa Hospitals and Clinics
Licensure and Certifications
Clinical Neurophysiology - ABPN
Neurology - ABPN
Medicine - Iowa Board of Medicine
Medicine - NBME
Publications
Jerath, N. U., Aul, E., Reddy, C. G., Azadeh, H., Swenson, A. & Kimura, J. (2015). Prolongation of F-wave minimal latency: a sensitive predictor of polyneuropathy. The International journal of neuroscience. PMID: 26000925.
Jerath, N. U., Strader, S. B., Reddy, C. G., Swenson, A., Kimura, J. & Aul, E. (2014). Factors influencing aversion to specific electrodiagnostic studies. Brain and behavior, 4(5), 698-702. PMID: 25328846.
Aul, E. A. (2006). Commonly tested nerves of the head and upper cervical region. In J. Kimura (Eds.) Handbook of Clinical Neurophysiology. pp. 527-550. Elsevier.
Davis, B. J., Rajput, A., Rajput, M. L., Aul, E. & Eichhorn, G. R. (2000). A randomized, double-blind placebo-controlled trial of iron in restless legs syndrome. European neurology, 43(2), 70-5. PMID: 10686463.
Razavi, M., Aul, E., Razavi, B. & Fincham, R. W. (2000). Exclusion criteria. Lancet, 355(9197), 38. PMID: 10615890.
Aul, E., Davis, B. J. & Rodnitzky, R. L. (1998). The importance of formal serum iron studies in the assessment of restless legs syndrome. Neurology, 51(3), 912. PMID: 9748060.
Davis, B. J., Aul, E., Granner, M. A. & Rodnitzky, R. L. (1994). Ranitidine-induced cranial dystonia. Clinical neuropharmacology, 17(5), 489-91. PMID: 9316702.
Caggiula, A. R., Antelman, S. M., Aul, E., Knopf, S. & Edwards, D. J. (1989). Prior stress attenuates the analgesic response but sensitizes the corticosterone and cortical dopamine responses to stress 10 days later. Psychopharmacology, 99(2), 233-7. PMID: 2508160.