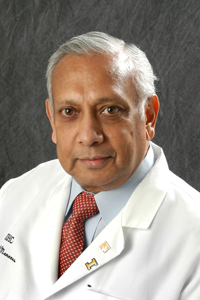 For more than 35 years, Arnold Menezes, MD, professor of neurosurgery, has worked tirelessly, caring for thousands of patients and advancing the field of neurosurgery at the University of Iowa Roy J. and Lucille A. Carver College of Medicine. Over a period of decades, Dr. Menezes has mentored and trained scores of young residents, preparing them for their future careers, while perfecting a range of innovative treatments for patients suffering from some of the most disabling disorders in medicine. His pioneering work profoundly influences neurosurgical practices throughout the world and patients from around the globe travel to Iowa City to receive care from Dr. Menezes.
Born in Mumbai, India, Dr. Menezes comes from a long lineage of physicians and surgeons. He studied at the Topiwala National Medical College at Bombay University, came to the United States, and completed his neurosurgical training at The University of Iowa in 1973. He joined the UI faculty the following year and has devoted his entire career to this institution.
To honor his vast contributions to the field of neurosurgery, his patients, and our institution, the UI Carver College of Medicine and the UI Foundation are committed to establishing the Arnold Menezes Chair in the Department of Neurosurgery. This fundraising initiative has been catalyzed by a major donation from the family of a grateful patient as well as donations from neurosurgery faculty members. We ask that you consider joining our effort to honor Dr. Menezes in this way by making a gift to support the Arnold Menezes Chair.
This endowed chair will serve to permanently recognize Professor Menezes's historic contributions and provide the resources needed to recruit outstanding young academic neurosurgeons to join the University of Iowa faculty and learn advanced neurosurgical skills under the tutelage of Professor Menezes. In this way, his special work will be extended to the next generation of academic neurosurgeons.
A named, endowed chair is the highest honor the University can bestow on a faculty member, and Dr. Menezes has demonstrated extraordinary leadership and commitment to his trainees and patients—as well as The University of Iowa—throughout the years. No one is more deserving of this honor.
The department is seeking a total of $2 million in private support from dedicated alumni, former colleagues, and grateful patients. Your participation will help build a long-lasting resource for the department in tribute to one of its most dedicated faculty, and in preparations for generations of future excellence.