Jason Lewis, MFA, directs the Writing and Humanities Program in the University of Iowa Carver College of Medicine. You can also find him on guitar and lead vocals with Jason T. Lewis and Sad Iron Music, occasionally performing at The Mill. Or watch him review the latest tech, gaming, and audio products as host of "Painfully Honest Tech" on YouTube.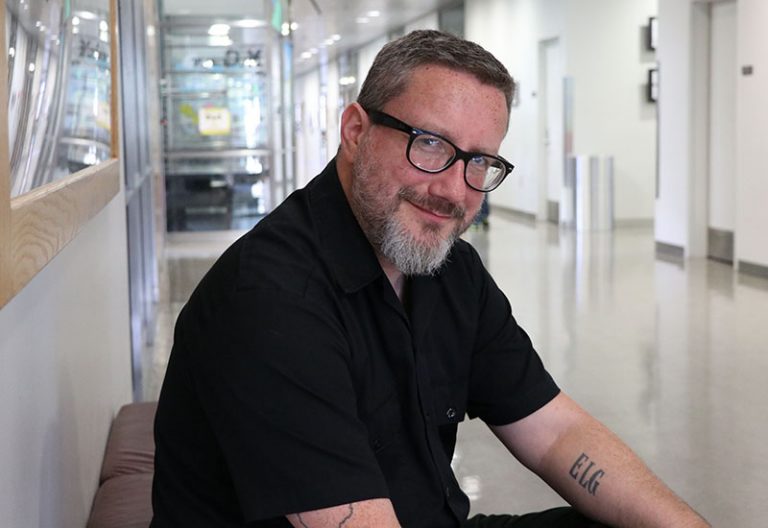 What is your job?
My baseline job is to help medical students with their personal statements for their fourth-year residency applications as well as other writing, creative or otherwise. I also teach two elective courses that are centered around writing workshops. When I arrived here in 2010, we started The Examined Life Journal; The Examined Life Conference (coming up Oct. 12–14) was ongoing. My goal is to get the arts and humanities in front of medical students as much as I can, because valuable tools can be gleaned from building that kind of knowledge.
How do you achieve that goal?
We diversify what we offer—for example, lunchtime discussions about literature or art projects, or the Humanities Distinction Track for medical students who want to work on a project that takes them through their four years. We also do CCOM Reads, where we give books to students at spring break, when they have a chance to read something that is maybe off their radar a bit. When Breath Becomes Air was this year's book.
Speaking of books, what is the follow-up to The Fourteenth Colony, your 2011 novel and companion CD?
I just finished another book, and it's with an editor now. The Crack in the World is set in the same place as the first book, in West Virginia, where I grew up. The main character is a deputy sheriff who is investigating the disappearance of a high school student. The book delves into his past and the legends of the area.
How did you get from West Virginia to Iowa?
Growing up in Morgantown, I was always involved in music. I moved to New York City and did music for 11 years, making records and touring. When our daughter was born we moved back to Morgantown and I went back to school to finish my degree. I was focused on songwriting in New York, but I had taken poetry and fiction writing classes as an undergrad. An MFA student I worked with advised me to get an MFA. I knew about the Iowa Writers' Workshop from a high school friend in the program.
How has your experience in music helped in your work with medical students?
When I came here, Dave Etler in our office was interested in doing a podcast. I had a couple of decades' experience working with audio equipment and production, so we started The Short Coat Podcast. It gets 18,000 listens a month. A lot of students thinking about coming here will listen to that podcast and get a feel for the place.