Wednesday, February 03, 2016
Third-year resident, Sarah Wernimont, MD, PhD, was named a 2016 Quilligan Scholar by the Society for Maternal Fetal Medicine and The Pregnancy Foundation. She is one of five residents in the United States to receive this honor.
"The Quilligan scholar program is extremely competitive and prestigious." Residency Director, Marygrace Elson, MD, says. "The program identifies future leaders in Maternal Fetal Medicine and offers them mentoring and special educational opportunities for two years."
The scholarship was created in 2014 to recognize third-year obstetrics and gynecology residents who demonstrate unparalleled potential in the field of perinatology. The award was named after maternal fetal medicine pioneer, Dr. Edward J. Quilligan.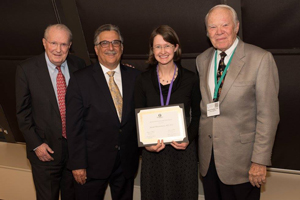 "Meeting with Dr. Quilligan and other leaders in the field has been incredibly inspiring and has motivated me to seek new opportunities to improve care for pregnant women both here in Iowa and beyond," Wernimont says. "From formal and informal mentorship, I better appreciate major challenges ahead for our field and ways I can prepare myself to help manage the challenges ahead."
Each year, residency programs across the nation nominate a candidate for the scholarship. Once selected, the scholars have the opportunity to attend the Society for Maternal Fetal Medicine's annual conference where they spend a day immersed in the lives of various leaders in the field.
"Dr. Wernimont is simply excellent in her knowledge base, evidencebased clinical care, leadership, and teaching," Elson says. " She shows extraordinary promise as a clinician scientist."