UI Hospitals and Clinics is expanding midwifery services to facilitate a growing demand–echoing a national trend in pregnancy care that has been steadily climbing for the past two decades. After hiring two more midwives in September, UI Hospitals and Clinics is now home to seven of the 100 certified nurse-midwives in the state of Iowa.
"We are and will continue to expand our midwifery services, because we have found that our patients like the intimate relationship they get with a midwife," says Dale Geerdes, director of clinical functions for the Department of Obstetrics and Gynecology.
Choosing a midwife instead of a formally trained obstetrician is a trend that has been increasing nearly every year since 1989. Certified nurse-midwives attend over 8.33 percent of all births nationally, and 8.35 percent of all births in Iowa, according to the most recent data from the American College of Nurse-Midwives.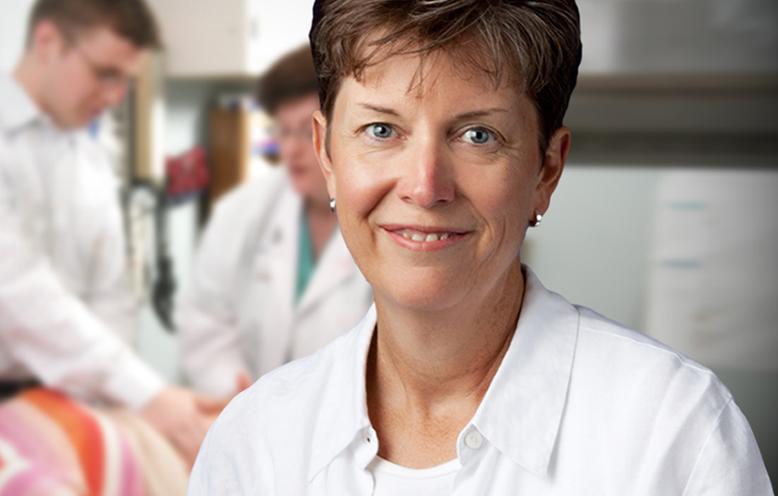 That number is significantly higher at UI Hospitals and Clinics.
"A certified nurse-midwife attends almost 15 percent of all deliveries and more than 20 percent of all vaginal deliveries," says Geerdes.
Traditionally, a midwife is somebody who assists women during childbirth. In Iowa, midwives who deliver babies in hospitals are certified nurse-midwives, or CNMs. CNMs are licensed, health care providers required to have a graduate degree in nursing, complete standardized training, as well as a certification exam.
"Our focus is on listening to women and understanding their needs so they can have the best possible outcome and achieve a sense of empowerment," says Laura Dellos, ARNP, CNM. "Through 'watchful waiting' and minimization of interventions, we support the normal physiologic process of birth."
Midwife patient Megan Rife was drawn to the high touch, low-tech model of care.
"I knew that I wanted to be treated as a healthy mom who was just having a baby," says Megan. "At the same time, if anything went wrong, it was comforting to know that we had the best pediatricians possible for the care of my baby and that I had some of the best obstetricians possible for the care of myself."
While Megan saw all the midwives throughout her pregnancies, Lynne Himmelreich, ARNP, CNM, attended her son Holden's birth.
"When Holden arrived, Lynne allowed him to be on my chest for nearly an hour, so I could have the experience of staring at my son for the first hour of his life," Megan said. "That was one of the best moments of my life and Lynne gave me that gift, so of course I came back to the midwives to have my daughter."
Holden is now four years old and is a big brother to his 18-month-old sister, Cecilia.
"Even though the midwives see hundreds of women and assist births every single day, they treated me like my story to motherhood was special and that it really mattered," says Megan. "I could have just been another number in the system, but they never allowed me to feel that way."