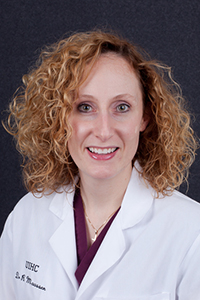 Clinical Associate Professor of Obstetrics and Gynecology - General Obstetrics and Gynecology
Medical Director for Clinical Risk Management for Carver College of Medicine, the University of Iowa Physicians Group, and University of Iowa Hospitals and Clinics
Director, Division of General Obstetrics and Gynecology
Contact Information
Primary Office
51210 Pomerantz Family Pavilion
Iowa City, IA 52242
319-356-3019
Education
BS, Psychology, University of Iowa, Iowa City, Iowa
MD, University of Iowa, Iowa City, Iowa
MBA, University of Iowa Tippie School of Management

Resident, Obstetrics and Gynecology, University of Iowa Hospitals and Clinics
Licensure and Certifications
American Board of Obstetrics and Gynecology
Research Summary
Minimally invasive surgery
Hospital and Clinical Administration focusing on productivity in the academic setting as a result of patient and provider satisfaction.
Resident Education in minimally invasive surgery and resident preparedness for entering the business of medicine.
Publications
Maassen, R. A. (2011). Calcium and vitamin D for the reproductive female. Proc Obstet Gynecol., 2(2), 18.
Ryan, G. L., Maassen, R. A., Dokras, A., Syrop, C. H. & Van Voorhis, B. J. (2005). A Majority of Women Delay Childbearing in Both Female and Infertile Groups Despite Understanding the Risks of Aging on Fertility.
Christensen, A. J., Maassen, R. A., Ehlers, S. L. & Schultz, S. K. (1999). Environment and Longevity in Schizophrenia. (Vols. 61). (2), pp. 141-5. Psychosomatic Medicine. PMID: 10204964.
Schultz, S., Maassen, R. A. (1998). A Retrospective Analysis of Hypoglycemic Treatment of Schizophrenia. (Vols. 6). pp. 43. Am J Geriatric Psychiatry.