By Dawn Goodlove,
editor of Medicine Iowa,
from the fall 2018 issue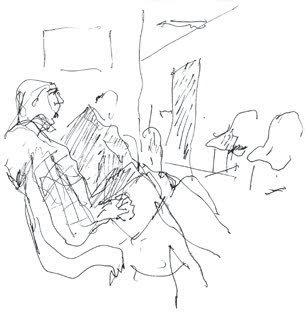 The patient was an artist, so while he waited for his scheduled appointment in the ophthalmology clinic he sketched the faces of the other patients in the room. 
When the time came for his exam, he shared his drawing with the doctor, a resident physician at the University Hospital of Utrecht, Netherlands.
"He had diabetes, and by the time he came in for an appointment there was permanent damage. He had diabetic macular edema," says Michael Abràmoff, MD, PhD, the Robert C. Watzke Professor of Ophthalmology and Visual Sciences with University of Iowa Health Care, remembering that patient 21 years ago.
Diabetic macular edema is a consequence of diabetic retinopathy, specifically swelling of the macula that causes blurry vision. Early detection and treatment of diabetic retinopathy can reduce the risk of blindness by 95 percent, but because the condition lacks early symptoms, patients need regular exams by a retinal specialist.
Appointments in the Utrecht ophthalmology clinic were scheduled six months out in 1997. Of the patients with diabetes who came to the clinic, many had nothing wrong after screening exams. Abràmoff was frustrated that he wasn't seeing the patients who needed help, nor seeing patients with diabetic retinopathy soon enough for effective treatment.
"I had a software background, and I thought, 'We need to use computers to make this better,'" he says.