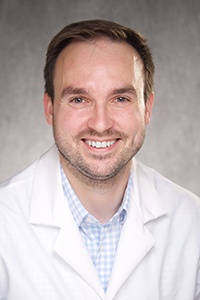 Clinical Assistant Professor of Pathology
Contact Information
Primary Office
5239-A Carver Pavilion (RCP)
200 Hawkins Drive
Iowa City, IA 52242
319-478-7058
Education
BA, Political Science, University of Wisconsin - Madison
JD, Law, University of Wisconsin Law School
MD, Medicine, University of California, San Diego School of Medicine
Licensure and Certifications
State of Iowa Medical License - Iowa Board of Medicine
Publications
Khan, I. R., Gu, Y., George, B. P., Malone, L., Conway, K. S., Francois, F., Donlon, J., Quazi, N., Reddi, A., Ho, C., Herr, D. L., Johnson, M. D. & Parikh, G. Y. (2021). Brain Histopathology of Adult Decedents after Extracorporeal Membrane Oxygenation. Neurology. DOI: 10.1212/WNL.0000000000011525.
Conway, K., Smith, Z., Nguyen, T., Hlavaty, L., Venneti, S., Camelo-Piragua, S. & Webb, M. (2020). Incidental Massive Hydrocephalus Associated With an Unruptured Choroid Plexus Arteriovenous Malformation and Complete Agenesis of the Corpus Callosum Found in an Adult at Autopsy. The American Journal of Forensic Medicine and Pathology. PMID: 32568882.
Conway, K. S., Camelo-Piragua, S., Fisher-Hubbard, A., Perry, W. R., Shakkottai, V. G. & Venneti, S. (2020). Multiple system atrophy pathology is associated with primary Sjögren's syndrome. JCI Insight, 5(15). DOI: 10.1172/jci.insight.138619.
Hollon, T. C., Pandian, B., Urias, E., Save, A. V., Adapa, A. R., Srinivasan, S., Jairath, N. K., Farooq, Z., Marie, T., Al-Holou, W. N., Eddy, K., Heth, J. A., Khalsa, S. S., Conway, K., Sagher, O., Bruce, J. N., Canoll, P., Freudiger, C. W., Camelo-Piragua, S., Lee, H. & Orringer, D. A. (2020). Rapid, label-free detection of diffuse glioma recurrence using intraoperative stimulated Raman histology and deep neural networks. Neuro-Oncology. DOI: 10.1093/neuonc/noaa162.
Conway, K., Rayes, O., Brown, T. & Webb, M. (2020). Atherosclerotic and Hypertensive Cardiovascular Disease are Associated with Death at Sublethal Carboxyhemoglobin Levels: A Postmortem Study. Journal of Forensic Sciences, 65(3), 855--859. PMID: 31856351.
Conway, K. S., Jentzen, J., Pratt, D. & Camelo-Piragua, S. (2020). Sudden Death Due to Calcifying Pseudoneoplasm of the Neuraxis: A Case Report and a Review of Sudden Death Due to Undiagnosed Central Nervous System Mass Lesions. The American journal of forensic medicine and pathology, 41(1), 70-74. PMID: 31850919.
Webb, M., Conway, K. S., Ishikawa, M. & Diaz, F. (2018). Cardiac Involvement in Sarcoidosis Deaths in Wayne County, Michigan: A 20-Year Retrospective Study. Academic forensic pathology, 8(3), 718-728. PMID: 31240066.
Conway, K. S., Forbang, N., Beben, T., Criqui, M. H., Ix, J. H. & Rifkin, D. E. (2015). Relationship Between 24-Hour Ambulatory Blood Pressure and Cognitive Function in Community-Living Older Adults: The UCSD Ambulatory Blood Pressure Study. American journal of hypertension, 28(12), 1444-52. PMID: 25896923.