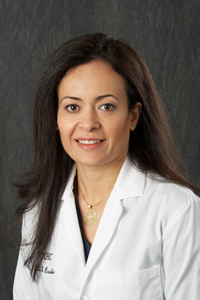 Director, Pathology Residency Program
Clinical Assistant Professor of Pathology
Contact Information
Primary Office
5238-G Roy Carver Pavilion
Iowa City, IA 52242
319-467-5706
Education
MBBS, University of Jordan

Resident, Pathology, University of Jordan
Internship, Medicine, Jordan University Hospital; Jordan Hospital; Al-Bashir Hospital
Extern, Pathology, University of Missouri
Resident, Pathology, University of Iowa Hospitals and Clinics
Fellow, Cytopathology, University of Iowa Hospitals and Clinics
Fellow, Surgical Pathology, University of Iowa Hospitals and Clinics
Licensure and Certifications
Cytopathology Certification - American Board of Cytopathology
Anatomic and Clinical Pathology Certification - American Board of Pathology
State of Iowa Medical License - Iowa Board of Medicine
Educational Commission of Foreign Medical Graduates
Center, Program and Institute Affiliations
Holden Comprehensive Cancer Center
Research Summary
Interests: Surgical Pathology with special interest in breast, gynecologic and urologic pathology and cytopathology special interests in performing and interpreting fine needle aspirations and an interest in salivary gland cytology.
Publications
(2018). Poorly differentiated neuroendocrine carcinoma of the breast with Merkel cell features. (Vols. 24). (4), pp. 644-647. The Breast Journal. PMID: 29457684.
(2018). Simultaneous detection of single-nucleotide variant, deletion/insertion, and fusion in lung and thyroid carcinoma using cytology specimen and an RNA-based next-generation sequencing assay. Cancer cytopathology, 126(3), 158-169. PMID: 29364576.
(2016). IgG4-related disease in an adolescent with radiologic-pathologic correlation. Radiology case reports, 12(1), 196-199. PMID: 28228909.
(2008). Images in cardiovascular medicine. Evanescent asymmetrical septal hypertrophy and rapidly progressive heart failure in a 32-year-old man. Circulation, 118(8), e126-8. PMID: 18711018.
(2003). Sinonasal adenocarcinoma: immunohistochemical marking and expression of oncoproteins. Head & Neck, 25(9), 763-71. PMID: 12953313.
(2002). Sinonasal adenocarcinoma: Differential immunohistochemical marking and expression of oncoproteins. United States and Canadian Academy of Pathology National Meeting held in Chicago, IL, Feb 23-Mar2.