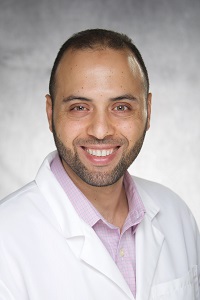 Clinical Assistant Professor of Pathology
Contact Information
Primary Office
5238-C Roy Carver Pavilion
200 Hawkins Dr
Iowa City, IA 52242
319-356-3264
Education
MBChB, University of Tripoli

Internship, University of Tripoli Affiliated Hospitals
Resident, Anatomic and Clinical Pathology, University of Hawaii Pathology
Fellow, Hematopathology, Rutgers/Robert Wood Johnson Medical School
Fellow, GI and Liver Pathology, University of Washington
Licensure and Certifications
State of Iowa Medical License - Iowa Board of Medicine
Hematopathology - American Board of Pathology (ABP)
Anatomic Pathology and Clinical Pathology - American Board of Pathology (ABP)
State of New Jersey Medical License
Publications
Setoodeh, S., Liu, L., Boukhar, S. A., Singal, A. G., Westerhoff, M., Waljee, A. K., Ahmed, T. & Gopal, P. (2018). The Clinical Significance of Crohn Disease Activity at Resection Margins. Archives of pathology & laboratory medicine. PMID: 30444436.
Boukhar, S. A., Kaneshiro, R., Schiller, A., Terada, K. & Tauchi-Nishi, P. (2015). Tibial bone metastasis as an initial presentation of endometrial carcinoma diagnosed by fine-needle aspiration cytology: A case report and review of the literature. CytoJournal, 12, 11. PMID: 26085835.
Jain, S., Jain, A., Onizuka, N. & Boukhar, S. A. (2014). A rare case of medullary carcinoma of the colon presenting as intussusception in an adult with rectal bleeding. Hawai'i journal of medicine & public health : a journal of Asia Pacific Medicine & Public Health, 73(11), 348-52. PMID: 25414804.