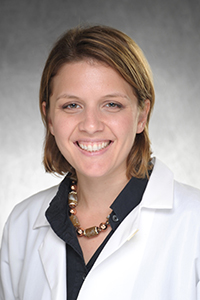 Clinical Assistant Professor of Pathology
Contact Information
Primary Office
5232-A Roy Carver Pavilion
200 Hawkins Drive
Iowa City, IA 52242
319-678-8462
Education
BS, Biology Research, Loras College
MD, Medicine, University of Iowa Roy J and Lucille A Carver College of Medicine

Resident, Anatomic and Clinical Pathology, University of Michigan Health System
Fellow, Surgical Pathology, University of Iowa Hospitals and Clinics
Fellow, Dermatopathology, University of Michigan Health System
Licensure and Certifications
Dermatopathology - American Board of Pathology
Anatomic and Clinical Pathology - American Board of Pathology
Publications
Yu, K., Reid, A. T., Chen SJT,, Patel, R. M., Donn, S. M., Gudjonsson, J. E. & Lowe, L. (2018). Dystrophic calcifications point the way-Unusual and early diagnostic clue of Conradi-Hünermann-Happle syndrome. JAAD case reports, 4(4), 333-336. PMID: 29693062.
Schuler, A., Smith, E., Chen, S., Chan, M. P. & Harms, P. W. (2018). Psammomatous Squamous Cell Carcinoma of the Skin. The American Journal of dermatopathology, 40(3), e38-e40. PMID: 28953015.
Chen SJT,, Patel, R. M., Hans, C. P., Chan, M. P. & Fullen, D. R. (2017). Superficial papular neuroma: Case series of a new entity. Journal of cutaneous pathology, 44(9), 757-762. PMID: 28627021.
Ha Lan, T. T., Chen, S. J., Arps, D. P., Fullen, D. R., Patel, R. M., Siddiqui, J., Carskadon, S., Palanisamy, N. & Harms, P. W. (2014). Expression of the p40 isoform of p63 has high specificity for cutaneous sarcomatoid squamous cell carcinoma. Journal of Cutaneous Pathology, 41(11), 831-838. DOI: 10.1111/cup.12387.
Arps, D. P., Chen, S., Fullen, D. R. & Hristov, A. C. (2014). Selected Inflammatory Imitators of Mycosis Fungoides: Histologic Features and Utility of Ancillary Studies. Archives of Pathology & Laboratory Medicine, 138(10), 1319-1327. DOI: 10.5858/arpa.2014-0298-cc.
Eagleson, G. W., Theisen, S. (2008). Stage-specific effects of retinoic acid on gene expression during forebrain development. Brain research bulletin, 75(2-4), 281-8. PMID: 18331885.