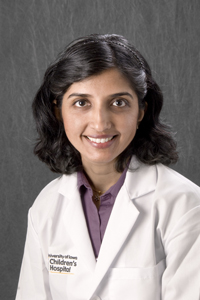 Clinical Associate Professor of Pediatrics - General Pediatrics and Adolescent Medicine
Contact Information
Primary Office
2627 Iowa River Landing (IRL)
Iowa City, IA 52242
319-467-2000
Education
Pre-Med Program, Northwestern University, Illinois
MBBS, Medicine and Surgery, PSG Institute of Medical Sciences and Research, India
Rotating Intership, PSG Institute of Medical Sciences and Research

Internship, PSG Institute of Medical Sciences and Research, Coimbatore, India
Resident, Pediatrics, St. Luke's-Roosevelt Hospital Center, New York, New York
Licensure and Certifications
Pediatrics CPR Certified
Pediatrics NRP Ceritfication
Board Certified in Pediatrics
Iowa Medical License
Publications
Rand, C. M., Tyrrell, H., Brodeur, R. W., Goldstein, N. P. & Humiston, S. G. (2018). A learning collaborative model to improve human papillomavirus vaccination rates in primary care. Academic Pediatrics, 18(2), S46-S52.
Libster, R., McNeal, M., Walter, E. B., Shane, A. L., Winokur, P., Cress, G., Berry, A. A., Kotloff, K. L., Sarpong, K., Turley, C. B., Harrison, C. J., Pahud, B. A., Marbin, J., Dunn, J., El-Khorazaty, J., Barrett, J. & Edwards, K. M. (2016). Safety and Immunogenicity of Sequential Rotavirus Vaccine Schedules. Pediatrics, 137(2), e20152603. PMID: 26823540.
Humiston, S. G., Serwint, J. R., Szilagyi, P. G., Vincelli, P. A., Dhepyasuwan, N., Rand, C. M., Schaffer, S. J., Blumkin, A. K. & Curtis, C. R. (2013). Increasing Adolescent Immunization Rates in Primary Care Strategies Physicians Use and Would Consider Implementing. Clin Pediatr, 52(8), 710-720.
Moonjely, A. (2013). Iowa Lagging in Adolescent Vaccination Rates. EPSDT Newsletter (Early and Periodic screening, diagnosis and treatment).