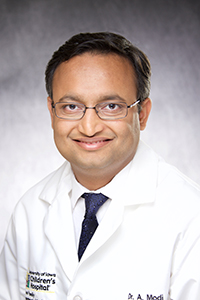 Clinical Assistant Professor of Pediatrics - Hematology Oncology
Contact Information
Primary Office
1330 BT
200 Hawkins Drive
Iowa City, IA 52242
319-467-5147
Education
MBBS, Medicine and Surgery, BJ Medical College, Gujarat University
MPH, Environmental and Occupational Health, School of Rural Public Health Texas A&M University Health Science Center, Houston, TX

Resident, Pediatrics, Children's Hospital at Albany Medical Center
Fellow, Pediatric Hematology/Oncology, Cleveland Clinic Children's
Fellow, Pediatric Bone Marrow Transplantation and Cellular Therapy, St Jude Children's Research Hospital
Licensure and Certifications
Pediatric Hematology/Oncology - American Board of Pediatrics
Iowa Board of Medicine
American Board of Pediatrics
ECFMG
Medical Council of India
Research Summary
I am interested in clinical and translational research in childhood leukemia and bone marrow transplant.
Publications
Al-Huniti, A., Rathi, N., Modi, A. J., Bhagavathi, S. & Sharathkumar, A. A. (In Press). Up-front treatment with romiplostim in children with acquired bone marrow failure: A single institutional pediatric case series. Journal of pediatric hematology oncology.
Modi, A., Thompson, M. (2015). Sickle cell disease. In , R. Usatine (Eds.) The Color Atlas of Pediatrics.
Ly, B., Modi, A., Rogers, H. J., Makishima, H., Hanna, R., Cook, J. R., Theil, K. S. & Maciejewski, J. P. (2014). Concurrent juvenile myelomonocytic leukemia and T-lymphoblastic lymphoma with a shared missense mutation in NRAS. Pediatric blood & cancer, 61(5), 946-8. PMID: 24610751.