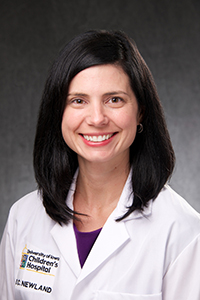 Clinical Associate Professor of Pediatrics - Gastroenterology
Contact Information
Office
1120 Boyd Tower (BT)
200 Hawkins Dr
Iowa City, IA 52242
319-356-2950
Education
BS, Engineering, University of Iowa
MD, University of Iowa

Resident, Pediatrics, Children's Memorial Hospital, Northwestern University
Fellow, Pediatric Gastroenterology, Comer Children's Hospital, The University of Chicago
Licensure and Certifications
American Board of Pediatrics, Sub-board of Pediatric Gastroenterology
American Board of Pediatrics
Research Summary
Research interests include: Celiac disease, liver disease, childhood obesity, and Education.
Publications
Patton, T., Chugh, A., Padhye, L., DeGeeter, C. & Guandalini, S. (2019). Pediatric Celiac Disease and Eosinophilic Esophagitis: Outcome of Dietary Therapy. Journal of pediatric gastroenterology and nutrition, 69(2), e43-e48. PMID: 30921260.
Dike, C. R., Bernat, J., Bishop, W. & DeGeeter, C. (2019). Niemann-Pick disease type C presenting as very early onset inflammatory bowel disease. BMJ Case Reports, 12(7). DOI: 10.1136/bcr-2019-229780.
DeGeeter, C., Guandalini, S. (2018). Food Sensitivities: Fact Versus Fiction. Gastroenterology clinics of North America, 47(4), 895-908. PMID: 30337039.
Newland, C. D. (2016). Acute liver failure. Pediatric Annals, 45(12), e433-e438. DOI: 10.3928/19382359-20161128-01.
Lebwohl, B., Rubio-Tapia, A., Assiri, A., Newland, C. & Guandalini, S. (2012). Diagnosis of celiac disease. Gastrointestinal Endoscopy Clinics of North America.
Guandalini, S., Newland, C. (2012). Is there a role for probiotics in children with recurrent GI symptoms such as diarrhea or abdominal pain?. In J. Rosh , A. Bousvaros (Eds.) Curbside Consultation in Pediatric Gastroenterology: 49 Clinical Questions. Thorofare, NJ: SLACK Incorporated.
Newland, C., Sentongo, T. (2011). Carbohydrate malabsorption. In J. Sondheimer , C. Waasdorp Hurtado (Eds.) The NASPGHAN Fellows Concise Review of Pediatric Gastroenterology, Hepatology and Nutrition. New York, NY: Castle Connolly Graduate Medical Publishing, Ltd.
Guandalini, S., Newland, C. (2011). Differentiating food allergies from food intolerances. Curr Gastroenterol Rep, 13, 426-434.