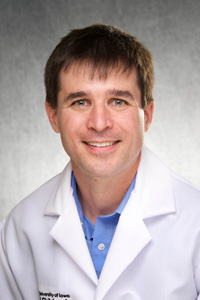 Associate Professor of Pediatrics - Hematology Oncology
Education
BA, Chemistry, Carleton College
MD, Medicine, University of Chicago
PhD, Biochemistry, University of Chicago

Internship, Pediatrics, Children's Hospital of Philadelphia
Resident, Pediatrics, Children's Hospital of Philadelphia
Fellow, Pediatric Hematology/Oncology, Dana-Farber Cancer Institute and Boston Children's Hospital
Pediatric Hematology/Oncology, Children's Hospital Boston/Dana-Farber Cancer Institute
Licensure and Certifications
Iowa Medical License - Medical Board of Iowa
Massachusetts Medical License - Massachusetts Board of Medicine
Board Certification, Pediatric Hematology/Oncology - American Board of Pediatrics
Board Certification, General Pediatrics - American Board of Pediatrics
Research Summary
Genetically defined models of cancer represent one of the most important tools in cancer biology. These models are a critical resource for investigating the basic pathophysiology of cancer initiation and development, as well as for the identification of novel therapeutic approaches. However, a significant shortcoming of current models is that nearly all genetically defined models are created in non-human organisms, such as mice and zebrafish. Although the importance of these organisms cannot be understated, it is also apparent that there are many instances where human (cancer) biology diverges from mouse and zebrafish biology. Consequently, the lack of genetically defined, human models of cancer is a critical barrier to understanding basic cancer biology and developing new therapies. A significant difficulty in developing cancer models in human cells is the frequent inability to combine a specific genetic lesion (mutation) with the correct cell type at the appropriate developmental stage (cell-of-origin). Our laboratory is focused on developing innovative approaches to creating genetically defined, as well as biologically relevant, models of cancer in human cells by combining genomic data from the sequencing of cancer genomes with the pluripotent nature of human embryonic stem cells. Using this approach, we have generated a genetically defined model of Ewing sarcoma, a common pediatric tumor, from human stem cells differentiating through an embryoid body intermediate. The goal of our work is to now use these model cells to study the pathophysiology of Ewing sarcoma tumors, as well as develop additional human tumor models through more advanced stem cell differentiation methodologies.
Publications
Naumann, J. A., Widen, J. C., Jonart, L. A., Ebadi, M., Tang, J., Gordon, D. J., Harki, D. A. & Gordon, P. M. (2018). SN-38 Conjugated Gold Nanoparticles Activated by Ewing Sarcoma Specific mRNAs Exhibit In Vitro and In Vivo Efficacy. Bioconjugate chemistry, 29(4), 1111-1118. PMID: 29412642.
Goss, K. L., Koppenhafer, S. L., Harmoney, K. M., Terry, W. W. & Gordon, D. J. (2017). Inhibition of CHK1 sensitizes Ewing sarcoma cells to the ribonucleotide reductase inhibitor gemcitabine. Oncotarget, 8(50), 87016-87032. PMID: 29152060.
Gossai, N. P., Naumann, J. A., Li, N., Zamora, E. A., Gordon, D. J., Piccirilli, J. A. & Gordon, P. M. (2016). Drug conjugated nanoparticles activated by cancer cell specific mRNA. Oncotarget. PMID: 27203672.
McNew, B., Darbro, B., Ma, D. & Gordon, D. (2016). Development of Secondary Acute Myeloid Leukemia (AML) in a Pediatric Patient Concurrently Receiving Primary Therapy for Ewing Sarcoma. Journal of Pediatric Hematology/Oncology.
Goss, K., Gordon, D. (2016). Gene Expression Signature Based Screening Identifies Ribonucleotide Reductase as a Candidate Therapeutic Target in Ewing Sarcoma. Oncotarget.
Gordon, D. J., Motwani, M. & Pellman, D. (2015). Modeling the Initiation of Weing Sarcoma Tumorigenesis in Differentiating Human Embryonic Stem Cells. Oncogene.
Varetti, G., Pellman, D. & Gordon, D. J. (2014). Aurea Mediocritas: The Importance of a Balanced Genome. Cold Spring Harb Perspect Biol, 6. PMID: 25237130.
Gordon, D., Resio, B. & Pellman, D. (2011). Causes and consequences of aneuploidy. Nat Rev Genetics,(13), 189-203. PMID: 22269907.
Gordon, D., Barbie, D., D'Andrea, D. & Pellman, D. (2011). Mechanisms of Genomic Instability. In DeVita, Hellman and Rosenberg's Cancer: Principles & Practice of Oncology, 9th ed. Philadelphia: Lippincott, Williams and Wilkins.
Gordon, D., Sloan, S. & de Jong, J. (2009). A pediatric case series of acute hemolysis after administration of intravenous immunoglobulin. Am J Hematol,(84), 771-772. PMID: 19806664.
Sciarretta, K. L., Gordon, D. J. & Meredith, S. C. (2006). Peptide-based inhibitors of amyloid assembly. Methods Enzymol, 413, 273-312. PMID: 17046402.
Sciarretta, K. L., Boire, A., Gordon, D. J. & Meredith, S. C. (2006). Spatial separation of beta-sheet domains of beta-amyloid: disruption of each beta-sheet by N-methyl amino acids. Biochemistry, 45, 9485-9495. PMID: 16878983.
Sciarretta, K. L., Gordon, D. J., Petkova, A. T., Tycko, R. & Meredith, S. C. (2005). Abeta40-Lactam(D23/K28) models a conformation highly favorable for nucleation of amyloid. Biochemistry, 44, 6003-6014. PMID: 15835889.
Gordon, D. J., Balbach, J. J., Tycko, R. & Meredith, S. C. (2004). Increasing the amphiphilicity of an amyloidogenic peptide changes the beta-sheet structure in the fibrils from antiparallel to parallel. Biophys J, 86, 428-434. PMID: 14695285.
Gordon, D. J., Meredith, S. C. (2003). Probing the role of backbone hydrogen bonding in beta-amyloid fibrilis with inhibitor peptides containing ester bonds at alternate positions. Biochemistry, 42, 475-485. PMID: 12022854.
Gordon, D. J., Tappe, R. & Meredith, S. C. (2002). Design and characterization of a membrane permeable N-methyl amino acid-containing peptide that inhibits Abeta1-40 fibrillogenesis. J Pept Res, 60, 37-55. PMID: 12081625.
Ryan, W. L., Gordon, D. J. & Levy, D. H. (2002). Gas-Phase photochemistry of the photoactive yellow protein chromophore trans-p-coumaric acid. J Am Chem Soc, 124, 6194-6201. PMID: 12022854.
Mustafi, D., Sosa-Peinado, A., Gupta, V., Gordon, D. J. & Makinen, M. W. (2002). Structure of spin-labeled methylmethanethiolsulfonate in solution and bound to TEM-1 beta-lactamase determined by electron nuclear double resonance spectroscopy. Biochemistry, 41, 797-808. PMID: 11790101.
Ballbach, J. J., Petkova, A. T., Oyler, N. A., Antzutkin, O. N., Gordon, D. J., Meredith, S. C. & Tycko, R. (2002). Supramolecular structure in full-length Alzheimer's beta-amyloid fibrils: evidence for a parallel beta-sheet organization from solid-state nuclear magnetic resonance. Biophys J, 83, 1205-1216. PMID: 12124300.
Gordon, D. J. (2002). Structure-based design of peptides with modified backbones that inhibit ß-amyloid fibrillogenesis. United States – Illinois: The University of Chicago.
Gordon, D. J., Sciarretta, K. L. & Meredith, S. C. (2001). Inhibition of betaamyloid(40) fibrillogenesis and disassembly of beta-amyloid(40) fibrils by short beta-amyloid congeners containing N-methyl amino acids at alternate residues. Biochemistry, 40, 8237-8245. PMID: 11444969.
Kim, S. H., Wang, R., Gordon, D. J., Bass, J., Steiner, D. F., Thinakaran, G., Lynn, D. G., Meredith, S. C. & Sisodia, S. S. (2000). Familial British dementia: expression and metabolism of BRI. Ann N Y Acad Sci, 920, 93-99. PMID: 11193182.
Kim, S. H., Wang, R., Gordon, D. J., Bass, J., Steiner, D. F., Lynn, D. G., Thinakaran, G., Meredith, S. C. & Sisodia, S. S. (1999). Furin mediates enhanced production of fibrillogenic ABri peptides in familial British dementia. Nat Neurosci, 2, 984-988. PMID: 10526337.
Vymazal, J., Brooks, R. A., Bulte, J. W., Gordon, D. & Aisen, P. (1998). Iron uptake by ferritin: NMR relaxometry studies at low iron loads. J Inorg Biochem, 71, 153-157. PMID: 9833320.