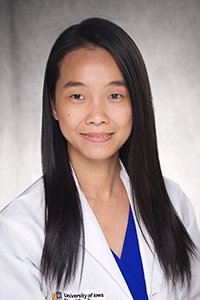 Clinical Assistant Professor of Pediatrics - Gastroenterology
Contact Information
Office
1120 Boyd Tower (BT)
200 Hawkins Drive
Iowa City, IA 52242
319-356-2950
Education
BA, University of the West Indies
Other, University Hospital of the West Indies

Resident, University of Miami, Miller School of Medicine
Fellow, University of Miami, Miller School of Medicine
Licensure and Certifications
American Board of Pediatrics, Sub-board of Pediatric Gastroenterology
Medical Licensure
American Board of Pediatrics
Publications
Cheung, D. A., Beduschi, T., Tekin, A., Selvaggi, G., Ruiz, P., Vianna, R. M. & Garcia, J. (2020). Clostridium difficile infection mimics intestinal acute cellular rejection in pediatric multivisceral transplant—A case series. Pediatric Transplantation, 24(1). DOI: 10.1111/petr.13621.
Cheung, D. A., Nicholson, A., Butterfield, T. R. & DaCosta, M. (2020). Prevalence, co-infection and antibiotic resistance of Escherichia coli from blood and urine samples at a hospital in Jamaica. Journal of Infection in Developing Countries, 14(2), 146-152. DOI: 10.3855/jidc.11361.
Cheung, D. A., Tamariz, L., Nemeth, Z. & Langshaw, A. H. (2019). Usefulness of Procalcitonin in Inflammatory Bowel Disease: A Systematic Review and Meta-analysis. Crohn's & Colitis 360, 1(3). DOI: 10.1093/crocol/otz032.
Cheung, D., Puertolas-Lopez, M., Scott, G., Langshaw, A., Diaz, Y., Sosa, M. A., McLaughlin, G. E. & Fifi, A. (2019). Decreasing overutilization of echocardiograms and abdominal imaging in the evaluation of children with fungemia. Journal of Clinical Outcomes Management, 26(6), 270-276.
Cheung, D. A., Langshaw, A. & Rivera-Rivera, E. (2018). Cryptosporidium diagnosed on endoscopic biopsy in a paediatric patient with inflammatory bowel disease. BMJ case reports, 2018. PMID: 29378737.