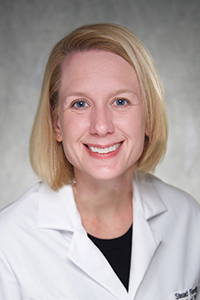 Clinical Assistant Professor of Pediatrics - Critical Care
Contact Information
200 Hawkins Drive
Iowa City, IA 52242
319-358-8895
Education
BS, University of Kansas
MD, University of Texas Health Science Center at Houston

Resident, Pediatrics, University of California San Francisco
Fellow, Pediatric Critical Care, University of California San Francisco
Licensure and Certifications
American Board of Pediatrics, Board Certified
Publications
Wellnitz, K., Harris, I. S., Sapru, A., Fineman, J. R. & Radman, M. (2015). Longitudinal development of obesity in the post-Fontan population. European journal of clinical nutrition, 69(10), 1105-8. PMID: 25920422.
Radman, M., Keller, R. L., Oishi, P., Datar, S. A., Wellnitz, K., Azakie, A., Hanley, F., Char, D., Hsu, J. H., Amrinovin, R., Adatia, I. & Fineman, J. R. (2014). Preoperative B-type natriuretic peptide levels are associated with outcome after total cavopulmonary connection (Fontan). The Journal of thoracic and cardiovascular surgery, 148(1), 212-9. PMID: 24079880.
Wellnitz, K., Taegtmeyer, H. (2010). Mechanical unloading of the failing heart exposes the dynamic nature of autophagy. Autophagy, 6(1), 155-6. PMID: 19949312.
Kassiotis, C., Ballal, K., Wellnitz, K., Vela, D., Gong, M., Salazar, R., Frazier, O. H. & Taegtmeyer, H. (2009). Markers of autophagy are downregulated in failing human heart after mechanical unloading. Circulation, 120(11 Suppl), S191-7. PMID: 19752367.
Pepple, K. L., Atkins, M., Venken, K., Wellnitz, K., Harding, M., Frankfort, B. & Mardon, G. (2008). Two-step selection of a single R8 photoreceptor: a bistable loop between senseless and rough locks in R8 fate. Development (Cambridge, England), 135(24), 4071-9. PMID: 19004852.
Pesah, Y., Burgess, H., Middlebrooks, B., Ronningen, K., Prosser, J., Tirunagaru, V., Zysk, J. & Mardon, G. (2005). Whole-mount analysis reveals normal numbers of dopaminergic neurons following misexpression of alpha-Synuclein in Drosophila. Genesis (New York, N.Y. : 2000), 41(4), 154-9. PMID: 15789427.