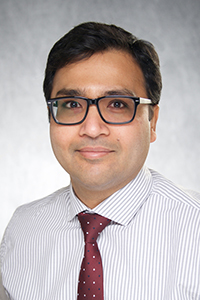 Clinical Associate Professor
Clinical Associate Professor of Pediatrics - Cardiology
Education
MBBS, Bachelor of Medicine/Bachelor of Surgery, Burdhwan Medical College-Burdhwan University
DC, Diploma in Child Health, Chittaranjan Seva Sadan, College of Obstetrics, Gynecology and Child Health

Resident, Pediatrics, Chittaranjan Seva Sadan College of Obstetrics, Gynecology and Child Health
Resident, Pediatrics, Bronx Lebanon Hospital Center / Albert Einstein College of Medicine
Fellow, Pediatric Cardiology, Children's Hospital of New Jersey
Fellow, Pediatric Cardiology, Rush University Medical Center
Fellow, Cardiac MRI, Division of Pediatric Cardiology, Boston Children's Hospital
Licensure and Certifications
Board Certified, Pediatrics - American Board of Pediatrics
Board Certified, Pediatric Cardiology - American Board of Cardiology
Publications
Gupta, U., Makhija, P. (2017). Left Ventricular Noncompaction Cardiomyopathy in Pediatric Patients: A Case Series of a Clinically Heterogeneous Disease. Pediatr Cardiol, 38(4), 681-90. PMID: 28108756.
Gupta, U., Morales, M., Khan, M. & Gerson, V. (2014). A rare case of hemolytic anemia in a pediatric patient due to ring dehiscence after mitral valve repair: utility of real-time three-dimensional imaging and management. Pediatr Cardiol, 35(1), 180-2. PMID: 24030589.
Kaur, R., Paiz, J., Brownlee, J. & Gupta, U. (2013). An Unusual Case of Prenatal Diagnosis of a Large Left Ventricular Diverticulum and Its Intermediate Term Outcome. Congenital Cardiology Today, 11(5), 10-11.
Gupta, U., Polimenakos, A., El-Zein, C. & Ilbawi, M. (2013). Tetralogy of Fallot with atrioventricular septal defect: surgical strategies for repair and midterm outcome of pulmonary valve-sparing approach. Pediatr Cardiol, 34(4), 861-71. PMID: 23104595.
Severin, P., Awad, S., Hoffman, J., Bonney, W., Cortez, E., Ganesan, R., Patel, A., Barnes, S., Barnes, S., Al-Anani, S., Gupta, U., Cheddar, Y., Gonzalez, I., Mallula, K., Ghawi, H., Kazmouz, S., Gendi, S. & Abdulla, R. (2013). The pediatric cardiology pharmacopeia: 2013 update. Pediatr Cardiol, 34(1), 1-29. PMID: 23192622.
Gupta, U., Polimenakos, A. & Bokowski, J. (2011). Benign outcome of pulmonary hypertension in neonates with a restrictive patent foramen ovale versus result for neonates with an unrestrictive patent foramen ovale. Pediatr Cardiol, 32(7), 972-6. PMID: 21710183.
Hijazi, Z., Taqatqa, A., Gupta, U. & Abdulla, R. (2011). Chapter 5, Cardiac Catheterization in Children: Diagnosis and Therapy. In R. Abdulla (Eds.) Heart Diseases in Children: A Pediatrician's Guide. (1st)
Severin, P., Shields, B., Hoffman, J., Awad, S., Bonney, W., Cortez, E., Ganesan, R., Patel, A., Barnes, S., Barnes, S., Al-Anani, S., Gupta, U., Cheddar, Y. & Abdulla, R. (2011). Drugs in Pediatric Cardiology, Appendix. In R. Abdulla (Eds.) Heart Diseases in Children: A Pediatrician's Guide. (1st)