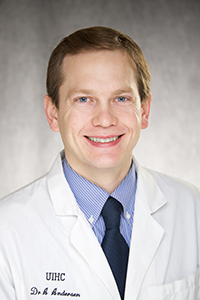 Assistant Professor of Psychiatry
Education
BS, Biology and Chemistry, Wheaton College
MD, Georgetown University School of Medicine

Internship, Johns Hopkins Bayview Medical Center
Resident, Psychiatry, Johns Hopkins Hospital
Resident, Child and Adolescent Psychiatry, Johns Hopkins Hospital
Postdoctoral Fellow, Department of Mental Health, Johns Hopkins Bloomberg School of Public Health
Postdoctoral Fellow, Department of Psychiatry, University of Iowa Hospitals and Clinics
Licensure and Certifications
Child and Adolescent Psychiatry Certification - American Board of Psychiatry and Neurology
Psychiatry - American Board of Psychiatry and Neurology
Publications
Andersen, A., Chisolm, M. S., Kleykamp, B. A., Yunus, F. N., Smith, C. & Terplan, M. (2013). Reduced Nicotine Content Cigarette Knowledge, Attitudes, and Practices of Patients at a Perinatal Substance Abuse Treatment Center. Addictive Disorders & Their Treatment, 12(3), 111-7.
Andersen, A. M., Bienvenu, O. J. (2011). Personality and psychopathology. International review of psychiatry (Abingdon, England), 23(3), 234-47. PMID: 21923225.
Chapman, J. C., Andersen, A. M., Roselli, L. A., Meyers, N. M. & Pincus, J. H. (2010). Screening for mild traumatic brain injury in the presence of psychiatric comorbidities. Archives of physical medicine and rehabilitation, 91(7), 1082-6. PMID: 20599047.
Philibert, R. A., Gunter, T. D., Beach, S. R., Brody, G. H., Hollenbeck, N., Andersen, A. & Adams, W. (2009). Role of GABRA2 on risk for alcohol, nicotine, and cannabis dependence in the Iowa Adoption Studies. Psychiatric genetics, 19(2), 91-8. PMID: 19672139.
Philibert, R. A., Todorov, A., Andersen, A., Hollenbeck, N., Gunter, T., Heath, A. & Madden, P. (2009). Examination of the nicotine dependence (NICSNP) consortium findings in the Iowa adoption studies population. Nicotine & tobacco research : official journal of the Society for Research on Nicotine and Tobacco, 11(3), 286-92. PMID: 19307444.
Philibert, R., Madan, A., Andersen, A., Cadoret, R., Packer, H. & Sandhu, H. (2007). Serotonin transporter mRNA levels are associated with the methylation of an upstream CpG island. American journal of medical genetics. Part B, Neuropsychiatric genetics : the official publication of the International Society of Psychiatric Genetics, 144B(1), 101-5. PMID: 16958039.
Andersen, A. M., Lei, M., Philibert, R. A. & Beach, Steven R. H., (2018). Methylation of MTHFR Moderates the Effect of Smoking on Genomewide Methylation Among Middle Age African Americans. FRONTIERS IN GENETICS, 9. DOI: 10.3389/fgene.2018.00622.
Anderson, A. M., Philibert, R. A., Gibbons, F. X., Simons, R. L. & Long, J. (2017). Accuracy and utility of an epigenetic biomarker for smoking in populations with varying rates of false self-report. Am J Med Genet B Neuropsychiatr Genet, 174(6), 641-650.
Anderson, A. M., Pietrzak, R. H., Kranzler, H. R., Ma, L., Zhou, H., Liu, X., Kramer, J., Kuperman..., S., Potash, J. B., Gelernter, J. & Han, S. (2017). Polygenic scores for major depressive disorder and risk of alcohol dependence. JAMA Psychiatry.
Andersen, A. M., Dogan, M. V., Beach, S. R. & Philibert, R. A. (2015). Current and Future Prospects for Epigenetic Biomarkers of Substance Use Disorders. Genes (Basel), 6(4), 991-1022. PMID: 4690026.
Andersen,, Lei,, Beach,, Philibert,, Sinha, & Colgan, Cigarette and Cannabis Smoking Effects on GPR15+ Helper T Cell Levels in Peripheral Blood: Relationships with Epigenetic Biomarkers. Genes, 11(2), 149. DOI: 10.3390/genes11020149.
Andersen, A. M., Law, J. K., Marvin, A. R. & Lipkin, P. H. Elopement Patterns and Caregiver Strategies. Journal of Autism and Developmental Disorders. DOI: 10.1007/s10803-019-03961-x.
Dawes, K., Andersen, A., Vercande, K., Papworth, E., Philibert, W., Beach, S. R., Gibbons, F. X., Gerrard, M. & Philibert, R. Saliva DNA Methylation Detects Nascent Smoking in Adolescents. Journal of Child and Adolescent Psychopharmacology. DOI: 10.1089/cap.2018.0176.