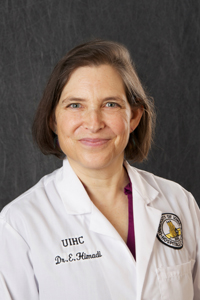 Clinical Associate Professor of Psychiatry
Clinical Associate Professor of Emergency Medicine
Contact Information
Office
2935 JPP
Iowa City, IA 52242
319-353-8691
Education
BS, Biology, University of North Carolina, Chapel Hill, NC
MD, Wake Forest University, Winston-Salem, NC

Resident, Pediatrics, University of Massachusetts Memorial Children's Medical Center, Worcester, MA
Fellow, Child Psychiatry, Dartmouth-Hitchcock Medical Center, Hanover, NH
Fellow, Dyslexia and Learning Differences, Texas Scottish Rite Hospital
Fellow, Developmental and Behavioral Pediatrics, University of Iowa Hospitals and Clinics, Iowa City, IA
Resident, Child and Adolescent Psychiatry, University of Iowa Hosptials and Clinics, Iowa City, IA
Resident, Psychiatry, University of Iowa Hospitals and Clinics, Iowa City, IA
Licensure and Certifications
Psychiatry Certification - American Board of Psychiatry & Neurology
Publications
Vakkalanka, J. P., Harland, K. K., Wittrock, A., Schmidt, M., Mack, L., Nipe, M., Himadi, E., Ward, M. M. & Mohr, N. M. (2019). Telemedicine is associated with rapid transfer and fewer involuntary holds among patients presenting with suicidal ideation in rural hospitals: a propensity matched cohort study. Journal of Epidemiology and Community Health, 73(11), 1033-1039. DOI: 10.1136/jech-2019-212623.
Lee, S., Harland, K. K., Swanson, M. B., Lawson, S., Dahlstrom, E., Clemson, L. & Himadi, E. (2018). Safety of reassessment-and-release practice for mental health patients boarded in the emergency department. The American journal of emergency medicine. PMID: 29525480.
Chi, D., Kanellis, M., Himadi, E. & Asselin, M. E. (2008). Lip biting in a pediatric dental patient after dental local anesthesia: a case report. J Pediatr Nurs, 23(6), 490-3. PMID: 19026918.
Senior, N., Himadi, E. (1985). Emotionally disturbed, adopted, inpatient adolescents. Child psychiatry Hum Dev, 15(3), 189-97. PMID: 4028879.