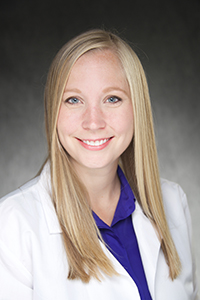 Clinical Assistant Professor of Psychiatry
Contact Information
1874 JPP
--
Education
BA, Peace Studies, College of Saint Benedict
BA, Psychology, College of Saint Benedict
MA, University of North Dakota
PhD, Clinical Psychology, University of North Dakota
Publications
Colwell, B. R., Olufs, E., Zuckerman, K., Kelly, S. P., Ibsen, L. M. & Williams, C. N. (2019). PICU Early Mobilization and Impact on Parent Stress. Hospital Pediatrics, 9(4), 265-272. DOI: 10.1542/hpeds.2018-0155.
Freeman, K. A., Olufs, E., Tudor, M., Roullet, J. B. & Steiner, R. D. (2016). A Pilot Study of the Association of Markers of Cholesterol Synthesis with Disturbed Sleep in Smith-Lemli-Opitz Syndrome. Journal of developmental and behavioral pediatrics : JDBP, 37(5), 424-30. PMID: 27244299.
Olufs, E. L., Himle, M. B. & Bradley, A. R. (2013). The effect of generic versus personally delivered education and self-disclosure on the social acceptability of adults with Tourette Syndrome. Journal of Developmental and Physical Disabilities, 25(4), 395-403.
Bradley, A. R., Mayzer, R., Schefter, M., Olufs, E., Miller, J. & Laver, M. (2012). Juvenile Competency and Responsibility: Public Perceptions. Journal of Applied Social Psychology, 42(10), 2411-32.
Himle, M. B., Olufs, E., Himle, J. A., Tucker, B. & Woods, D. W. (2010). Behavior therapy for tics via videoconference delivery: An initial pilot test in children. Cognitive and Behavioral Practice, 17, 339-37.