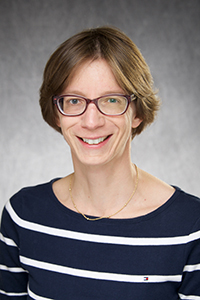 Clinical Director, Eating Disorders Services
Clinical Associate Professor of Psychiatry
Education
MA, Mental Health Counseling, University of Northern Iowa
PhD, Counseling Psychology, Ball State University
Publications
Shoen, E. G., McKelley, R. (2012). Clinical assessment at college counseling centers: The consultant-on-duty model. Journal of College Counseling,(15), 274-88.
Schoen, E. G., Lee, S., Skow, C., Greenberg, S. T., Bell, A. S., Wiese, J. E. & Martens, J. K. (2012). A retrospective look at the internal help-seeking process in young women with eating disorders. Eating disorders, 20(1), 14-30. PMID: 22188057.
Greenberg, S. T., Shoen, E. G. (2008). Males and eating disorders: Gender-based therapy for eating disorder recovery. Journal of Professional Psychology, Research, and Practice,(39), 464-71.
Shoen, E. G., Altmaier, E. M. & Tallman, B. (2007). Coping after bone marrow transplantation: The predictive roles of optimism and dispositional coping. Journal of Clinical Psychology in Medical Settings,(14), 123-9.
Jenks Kettmann, J., Shoen, E. G., Moel, J., Cochran, S., Greenberg, S. & Corkery, J. M. (2007). Putting the question to rest: Increasing severity of psychopathology at counseling centers or just a perception?. Journal of Professional Psychology, Research, and Practice,(38), 523-9.
Shoen, E. G., Nicholas, D. (2005). Meaning through illness: The case of breast cancer patients. Journal of Psychosocial Oncology, 22(4), 61-76.
Gordon, P. A., Feldman, D., Crose, R., Shoen, E. G., Griffin, G. & Shankar, J. (2001). The role of religious beliefs in coping with chronic illness. Counseling and Values, 46(3), 163-74.
Vernon, A., Shoen, E. G. (1999). Instructor's manual: Counseling children and adolescents. Love Publishing.
Ashby, J. S., Kottman, T. & Shoen, E. G. (1998). Perfectionism and eating disorders reconsidered. Journal of Mental Health Counseling, 20(3), 261-71.
Schoen, E., Brock, R. & Hannon, J. (2019). Gender bias, other specified and unspecified feeding and eating disorders, and college students: a vignette study. Eating Disorders, 27(3), 291-304. DOI: 10.1080/10640266.2018.1504536.
Schoen, E. (2018). Emotion regulation in the context of depression and unhealthy eating styles: A response to Paans et al. (2018). (Vols. 110). pp. 15. Journal of psychosomatic research. PMID: 29764600.
Adams, D. F., Behrens, E., Gann, L. & Schoen, E. (2017). Gender conformity, self-objectification, and body image for sorority and nonsorority women: A closer look. (Vols. 65). (2), pp. 139-147. Journal of American College Health.
Schoen, E., Clougher, K. & Wiese, J. Developing an Eating Disorder Peer Advocate Program on Campus: A Report on the Eating Disorder Awareness and Advocacy Program (EDAAP). Journal of College Student Psychotherapy, 1-17. DOI: 10.1080/87568225.2019.1592730.