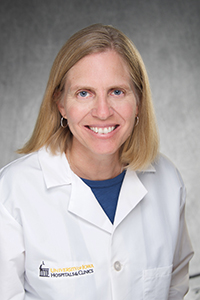 Medical Director, IMPACT Program, Dept. of Clinical Outreach
Clinical Professor of Psychiatry
Contact Information
Office
8966 John Pappajohn Pavilion
Iowa City, IA 52242
319-356-3869
Education
BS, Biology, Iowa State University, Ames, IA
MD, University of Iowa College of Medicine, Iowa City, IA

Resident, Psychiatry, University of Iowa Hospitals and Clinics, Iowa City, IA
Licensure and Certifications
Board Certification - American Board of Psychiatry & Neurology
Publications
Young, J. Q., Hasser, C., Hung, E. K., Kusz, M., O'Sullivan, P. S., Stewart, C., Weiss, A. & Williams, N. (2018). Developing End-of-Training Entrustable Professional Activities for Psychiatry: Results and Methodological Lessons. Academic medicine : journal of the Association of American Medical Colleges, 93(7), 1048-1054. PMID: 29166349.
Vanderlip, E. R., Williams, N. A., Fiedorowicz, J. G. & Katon, W. (2014). Exploring primary care activities in ACT teams. Community Ment Health J, 50(4), 466-73. PMID: 24337472.
Williams, N. (2001). Mental Health: Moving Towards Best Practices in Iowa's Mental Health System. In Assessing Awareness, Identifying Needs, and Promoting Solutions.. State Public Policy Group, Inc.